'Though an angel should write, / still 'tis devils must print.'

— Thomas Moore (1779–1852)
P22 TYPE SPECIMENS


BY RICHARD KEGLER
Alpha-blox
The modular letterpress curiosity known as Alpha-blox were introduced to the North American printing world in 1944 by American Type Founders (ATF). These sorts were hand set like type and ornaments but with the intention of building up lettering systems or borders from component parts. Similar European modular type systems were introduced prior to Alpha-blox. Fregio Mechano (Italy, 1920s) and Super Veloz (Spain, 1942) both have their unique approaches to modular type systems by leaving the final look of the lettering up to the compositor. Artist Josef Albers developed multiple modular lettering systems while at the Bauhaus. Albers argued that these systems would be economical by saving on time and storage space. ATF made a similar boast during its wartime release: 'Alpha-blox save the cost of artwork and engravings during resource-tight-times.' The reality is that all of these systems would take much more time to assemble into lines of text than conventional type. The allure of these systems is in the LEGO-like simplicity of breaking the alphabet down into its most basic elements and allowing the assembly of these basic shapes into seemingly endless combinations.
Alpha-blox were odered in three sizes from ATF: 12, 24 and 36pt and in a Linear (positive) and Reverse (negative) option that could be used in multi-colour overlays. Sorts of Alpha-blox often pop up in print shops and have recently enjoyed a resurgence of interest from letterpress printers. Original sets seldom come up for sale and recent metal re-castings have sold out soon after release. The 72pt injection-moulded plastic P22 Blox (heavily based on Alpha-blox) have recently proven popular with printers looking for fresh variations to the centuries-old art of letterpress printing.
You can download a modern interpretation of this font. Purchase Blox at P22 Type Foundry.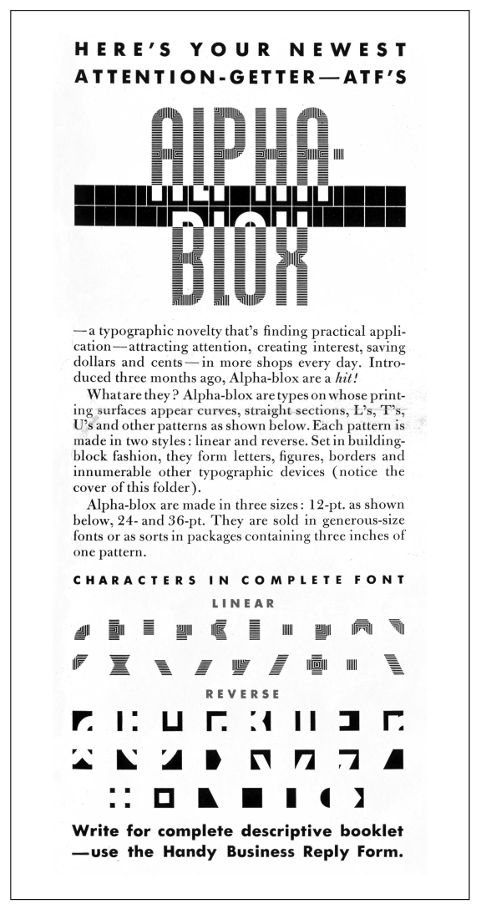 The Devil's Artisan would like to acknowledge the generous financial support of the Canada Council for the Arts and the Ontario Arts Council.