'Though an angel should write, / still 'tis devils must print.'

— Thomas Moore (1779–1852)
P22 TYPE SPECIMENS


BY RICHARD KEGLER
Goudy's Aries Typeface
Aries is commonly known to the type world as a roman typeface designed by Eric Gill. Another lesser-known and quite different Aries was created by Frederic W. Goudy (1865–1947) who created more than a hundred typefaces during his lifetime. Like most type designers, his name is recognized by a more general audience through eponymously titled faces, such as Goudy Old Style and Goudy Text. Goudy's work ranged from widely used faces made for the Lanston Monotype Company to private commissions that few people have ever seen. Although lost in the sense that it was not well known, Aries was not one of the 'Lost Goudy Types' that perished in a fire at his Deepdene studio in 1939.
Aries was created as a proprietary typeface for the Aries Press of Eden, N.Y., circa 1927. The Aries type was cast in just one size: 16 point. Like the William Morris Troy type, it is a stylized roman with blackletter characteristics. It was partially inspired by the Subiaco type created by Emery Walker for the Ashendene Press in 1900. This was itself inspired by the original Subiaco, widely considered to be the first roman type ever produced (circa 1465).
Goudy's Aries commission was only used for one book and a few pieces of ephemera from Aries Press. When the press closed, Goudy revisited the design for his own use, renaming it Village Text. Although almost every letter was re-cut, Village Text still closely resembles Aries. It was admired by the Grabhorn Press of San Francisco and in 1931 became its proprietary typeface under the name Franciscan. Comparing the two faces shows how type designers may never be satisfied with their own work, and how the diderences in details between two similar fonts can be minute yet endless.
You can download a modern interpretation of this font. Purchase Goudy Aries at P22 Type Foundry.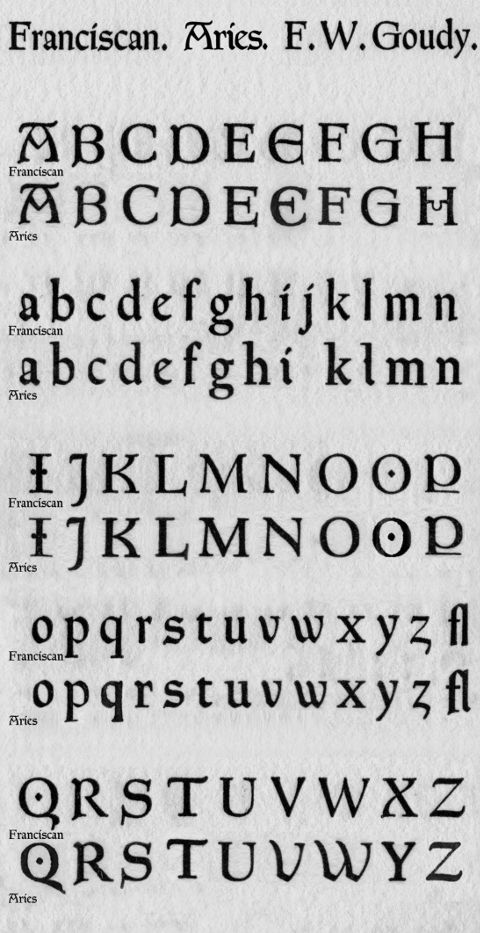 The Devil's Artisan would like to acknowledge the generous financial support of the Canada Council for the Arts and the Ontario Arts Council.