'Though an angel should write, / still 'tis devils must print.'

— Thomas Moore (1779–1852)
P22 TYPE SPECIMENS


BY RICHARD KEGLER
Athena
The proliferation of digital fonts has made today's graphic designer truly spoiled for choice when considering typefaces. Just about every design in the history of printing has been revived in some digital form, and there are often multiple revivals from various sources. Therefore, it was a pleasant surprise to receive a message from printing historian Rich Hopkins (author of the just-released book Tolbert Lanston and the Monotype) regarding a mysterious 'lost' typeface. Hopkins relayed his acquisition of the Baltimore-based Baltotype Company some twenty years ago from Herb Czarnowski, Jr., the son of the firm's founder. In late 2012 Hopkins was called in by Czarnowski's estate to help clear out the remnants of his personal print shop. Among the items discovered by Hopkins was:
a large envelope full of India-inked drawings about five inches tall of a face I didn't quickly recognize. McGrew and a 1957 Baltotype catalogue enabled me to ID the font as being what they called Athena. It's truly a strange cookie, with swells in the strokes that are unusual.... The matrices were cut in nickel and were stolen and destroyed during the court-ordered liquidation.
Athena was designed by George Battee and only odered through Baltotype as one of its few exclusive designs.
The typeface is a narrow, deco-flavoured design with a curious avoidance of straight lines in the stems and main strokes. The digital version of Athena has been expanded to over 340 characters by P22 designer Miranda Roth, and includes ligatures, alternates taken from the original drawings and a full Pan-European character set. It is released through the Lanston division of P22 Type Foundry in consideration of its earlier incarnation as a metal typeface. While the quirky nature of this design may prove to have limited applications, it is exciting to bring such a lively design back into contemporary use.
You can download a modern interpretation of this font. Purchase Athena at P22 Type Foundry.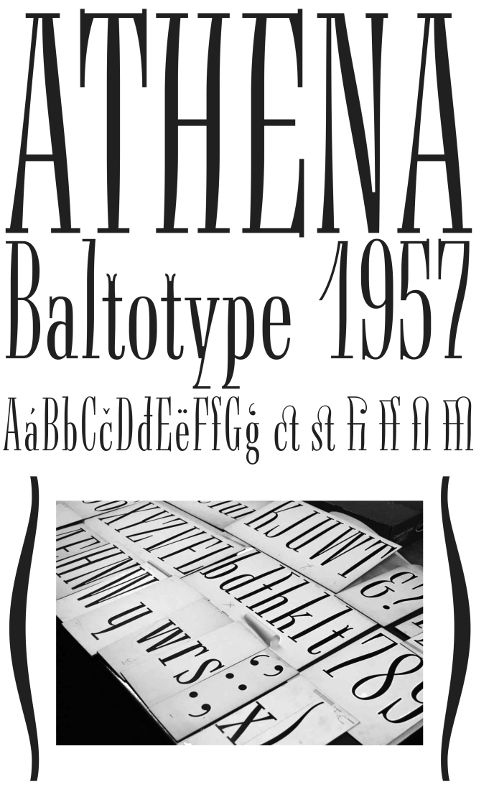 The Devil's Artisan would like to acknowledge the generous financial support of the Canada Council for the Arts and the Ontario Arts Council.