'Though an angel should write, / still 'tis devils must print.'

— Thomas Moore (1779–1852)
P22 TYPE SPECIMENS


BY RICHARD KEGLER
Aurora Uncial, by Victor Hammer
Victor Hammer (1882–1967) designed his first typeface, Hammer Uncial, in 1921. It was released by the Klingspor Foundry in Germany two years later. Hammer explored the Uncial form in type designs over the next 30 years. He sought to find a balance between Roman and Blackletter forms, which co-existed in his native Austria.
It is fitting that Hammer looked back to the Carolingian Minuscules of the eighth and ninth centuries as precursors to both Blackletter and Roman lower-case alphabets. His most widely known design, American Uncial, is seen in use today as an overplayed default font when an 'Irish' flavour is desired. This is curious considering it was designed by a Viennese ex-pat living in the small rural town of Aurora in New York's Finger Lakes district. Hammer fled Nazi-occupied Austria in 1939 and founded the Wells College Press early in his nine-year tenure at Wells College. His first type design created in America was partially cut and cast in 1939 for experimental settings, but never finished. Named for his adopted hometown, Aurora Uncial is less refined and more condensed than American Uncial. It is not usually mentioned in surveys of Hammer's work because it was never published in his lifetime. The unfinished design was revived in 1993 when the Wells Book Arts Center was founded and the Wells College Press reinstated by Robert Doherty. Doherty commissioned Dale Guild Foundry to complete and cast Aurora Uncial for the college. This limited casting was also odered for sale to the public, but is no longer available in any metal or digital form. It is one of the proprietary typefaces in the Wells Book Arts Center and used for select publications.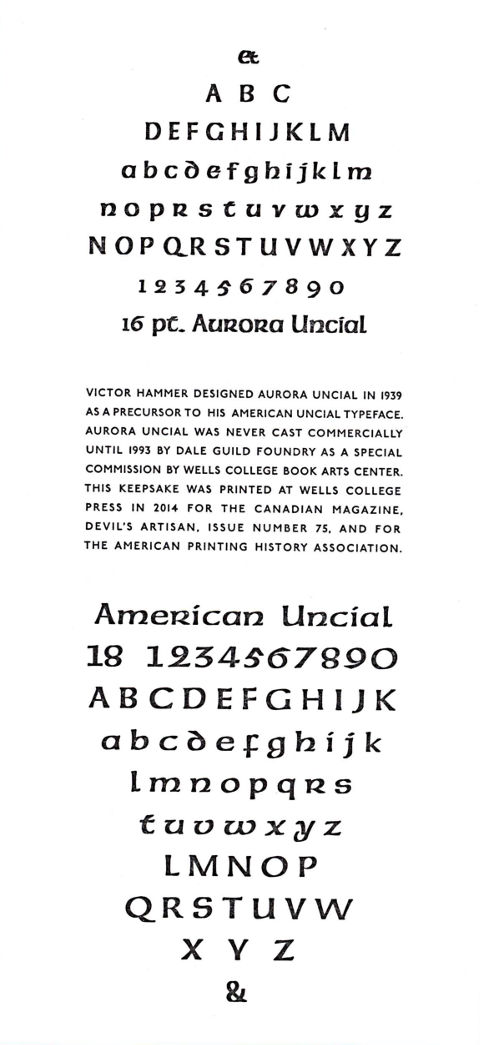 The Devil's Artisan would like to acknowledge the generous financial support of the Canada Council for the Arts and the Ontario Arts Council.