'Though an angel should write, / still 'tis devils must print.'

— Thomas Moore (1779–1852)
P22 TYPE SPECIMENS


BY RICHARD KEGLER
Babyteeth
New York–based designer Milton Glaser (1929–2020) helped to define the late-twentieth-century graphic design vernacular. His I♥NY logo is probably his most recognizable design. Almost as well known is his 1966 Bob Dylan poster featuring stylized, flowing colourful hair and a simple silhouette of Dylan with the letters DYLAN set in his Babyteeth type on the bottom. The Babyteeth font, and variations inspired by it, have been in constant use since this first appearance on the Dylan poster.
Glaser was inspired by a hand-painted sign he saw in Mexico, but it also evokes bold, blocky Soviet Constructivist poster lettering. Babyteeth was issued as a phototype font via Photo-Lettering, Inc., in the mid-1960s in four variations, as well as outline versions of those four. Along with the solid version of Babyteeth, there is a dotted counter, line counter and the rather curious 'baroque'. All of these variations can be seen in dozens of record album covers from the 1970s. There has been no authorized digital release of any of the Babyteeth fonts, so most of the more contemporary versions seen are not quite as designed by Glaser and the original stylistic variations are rarely seen.
In 2019, P22 Type Foundry teamed up with Milton Glaser Studios to digitize many of Glaser's typographic designs, including the eight original Babyteeth variations. The font project has been delayed a bit with the recent passing of Milton Glaser, however, the goal of producing authentic and authorized versions of his type designs continues towards an early 2021 release. The new P22 Babyteeth fonts will have the ability to overlay for colour combinations. They will have added flexibility, with extended character sets for wider language support as well as alternate letter design options based on original Glaser artwork for the initial releases.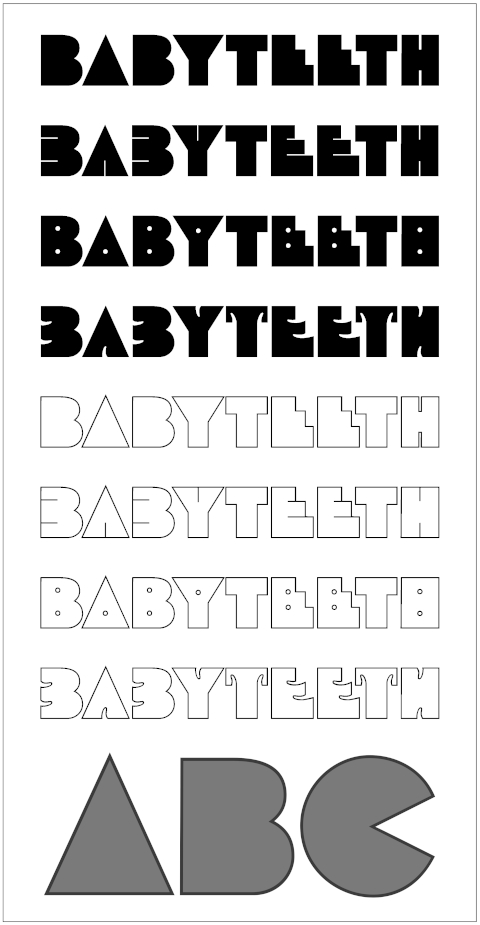 The Devil's Artisan would like to acknowledge the generous financial support of the Canada Council for the Arts and the Ontario Arts Council.