'Though an angel should write, / still 'tis devils must print.'

— Thomas Moore (1779–1852)
P22 TYPE SPECIMENS


BY RICHARD KEGLER
Beaufonte Showcard Script
'An extended script type that lends itself well to fine fashion, ready-to-wear and all quality merchandise.'
This is the full marketing blurb pitching 'Beaufonte' by the Morgan Sign Machine Company of Chicago, for their Line-O-Scribe sign printing system. The Lino-O-Scribe presses, known more generally as 'showcard' presses, were marketed directly to shop owners to make signage in-house rather than hiring out a printer, sign painter, or lettering artist to hand-letter ever-changing signage for their wares. The system was a full compact letterpress printing studio. Morgan supplied everything from the press to the ink and the typefaces. The types were standard type-height but had one distinct diderence from other type by having grooves routered into the feet of each piece so they could be lined up on rails that spanned the bed of the press.
Beaufonte was one in a series of wood-type faces (with such similar-to-each-other but evocative names as Bon Air, Belleaire, Beaux-Art, and Beaufonte) designed to mimic sign painters' script styles popular in the mid-twentieth century. Most of these designs included alternate variations of a few key letters so that the illusion could be presented that they might actually be hand-lettered. At least two Morgan script designs (Fashionaire and Fashion Art) were patented in the late 1950s / early 1960s but not credited to any specific designer. These designs, as well as more conventional gothic and serifed wood-type faces, were made by the Hamilton Manufacturing Company under contract for the Morgan Company well into the 1980s. The patterns and drawings for several of these designs still exist in the Hamilton Wood Type and Printing Museum in Two Rivers, Wisconsin. It is from these source materials that a new digitization of Beaufonte is released by P22 Type Foundry as HWT Showcard Script.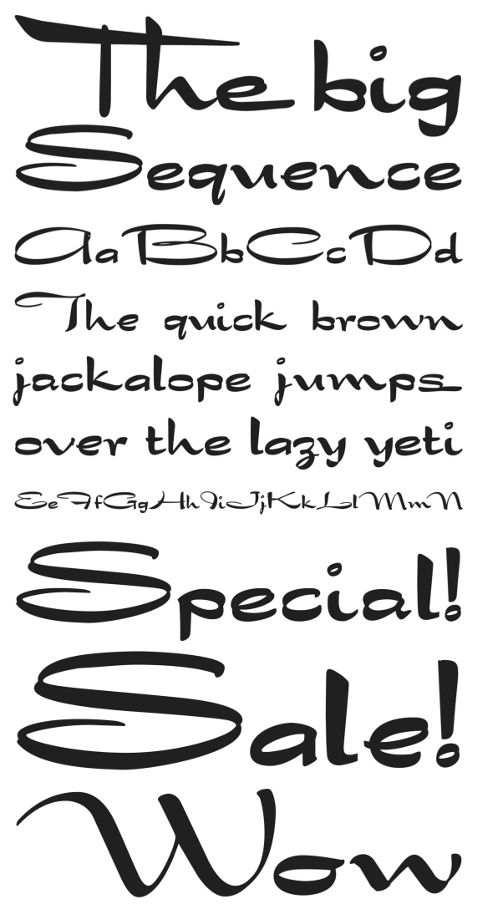 The Devil's Artisan would like to acknowledge the generous financial support of the Canada Council for the Arts and the Ontario Arts Council.