'Though an angel should write, / still 'tis devils must print.'

— Thomas Moore (1779–1852)
P22 TYPE SPECIMENS


BY RICHARD KEGLER
Bixler Roman
Over the past fifty-plus years, Michael and Winifred Bixler have been casting classic English monotype faces, designing and binding books and generally keeping the fine art of the book alive in their home and studio in the Finger Lakes town of Skaneateles, New York.
As a student under Alexander Lawson at the Rochester Institute of Technology during the mid-1960s, and before setting up his own studio, Michael Bixler endeavoured to make a roman typeface using the same production techniques that had brought monotype faces from concept to casting since the late nineteenth century. Bixler drew his typeface and managed to find a matrix cutter in Japan and then ultimately completed the casting of his typeface on a Thompson caster that is still used as a production machine at the Bixler letter-foundry. He printed one known broadside using an all-caps showing of Bixler Roman (since he considered the lower case sub-par) and put away his typeface where it sits in his shop to this day.
In The Private Typecasters (Bird & Bull Press, 2008) Bixler stated that 'After discovering faces like Centaur and other English Monotype faces, I asked why anyone would ever attempt to do his own work?' While he is quite modest about this accomplishment, the design is a handsome Venetian in the style of Frederic Goudy and quite accomplished for a first type design. It is exceptional in that it was completed as a college student. Bixler does not regard his type design as anything special, but the accomplishment of following the process through from drawing to completed cast type is no small feat. Executing the type-making process also gives insight into the larger understanding of how type design and type casting work on a level few can fully understand or appreciate.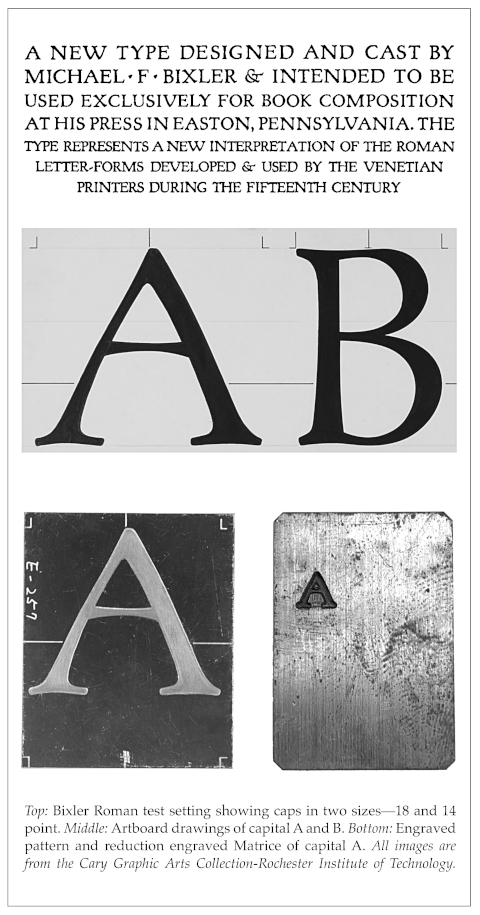 The Devil's Artisan would like to acknowledge the generous financial support of the Canada Council for the Arts and the Ontario Arts Council.