'Though an angel should write, / still 'tis devils must print.'

— Thomas Moore (1779–1852)
P22 TYPE SPECIMENS


BY RICHARD KEGLER
The Curwen Poster Type
The Curwen Press was founded by the Reverend John Curwen in 1863 as a publisher of sheet music. Harold Curwen, John's grandson, took over the press in 1914 and became a key figure in British printing, producing some of the most distinctive books and ephemera of the early twentieth century.
While inspired by Arts and Crafts ideals, Harold Curwen embraced technology and modern printing techniques. He took pride in printing and design work, describing himself as 'a rebel against commercial ugliness.' Aside from running the day-to-day business of the press, he involved himself actively in presswork and design, including type design. Curwen created his own sans-serif typeface in 1911 and, along with H.K. Wolfenden, the Curwen poster type in 1918. This sturdy bracketed serif roman type design was made in ten sizes, ranging from 4.5 line to 22 line, for exclusive use by the Curwen Press.
Curwen Press closed in 1984 and, as with many shuttered print shops, the contents have found their way to various new homes. The original drawings for the poster type are included in the Curwen Press Collection at Cambridge University Library. In 2009, the Barbarian Press acquired an impressive collection of ornaments and standing borders from the Curwen print shop. The poster type itself came into the possession of the Robertson Davies Library of Massey College at the University of Toronto. Eight sizes of this type are now part of the extensive wood type collection at Massey. The specimen, showing six sizes of the lowercase g, illustrates how various sizes were cut with subtle and sometimes not so subtle diderences giving unique character to each size. In 2005 a digital version was made, based on the 6-line font, for general release by P22 Type Foundry.
You can download a modern interpretation of this font. Purchase Curwen Poster Type at P22 Type Foundry.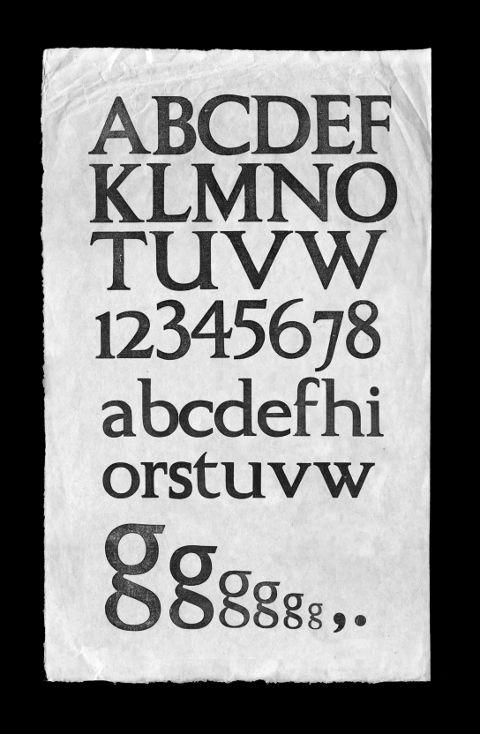 The Devil's Artisan would like to acknowledge the generous financial support of the Canada Council for the Arts and the Ontario Arts Council.