'Though an angel should write, / still 'tis devils must print.'

— Thomas Moore (1779–1852)
P22 TYPE SPECIMENS


BY RICHARD KEGLER
Double Small-Pica Script
Typefaces have very little in the way of legal protections for their makers compared to other creative works. This is somewhat ironic since the first American design patent issued was for a typeface. George Bruce of New York received Patent No. 1 in 1842 for his Double Small-Pica Script. This metal script type mimics fine penmanship of the early 1800s.
Many typefaces have received patents since then, but with all of the successful applications there must be something unique about the design that merits the granting of a patent. Because of the uncertainty of obtaining a patent and the cost and limited length of protection (twenty years), relatively few type designers will attempt to patent new designs. There are other protections for typefaces, such as trademarking the name, but as far as copyright goes only the underlying code can be claimed for copyright in the United States. The design itself is not protected by copyright. The argument has been made that type makes up the elements of written language, and any restriction (or intellectual property protection) of type might also restrict free speech. Type designer Hermann Zapf had argued for copyright protections for typefaces in front of the US Congress and felt there was significant personal loss of income due to piracy. His edorts, and those of others, have not helped to increase protection in the United States, although European intellectual property laws do provide stronger protections.
It is an ongoing struggle for type designers to protect their own intellectual property. The elegant Double Small-Pica Script stands as an inspiration that type designs are individual and unique, as in any design discipline. The granting of Design Patent No. 1 ushered in a new, if limited, era of intellectual property protections in North America.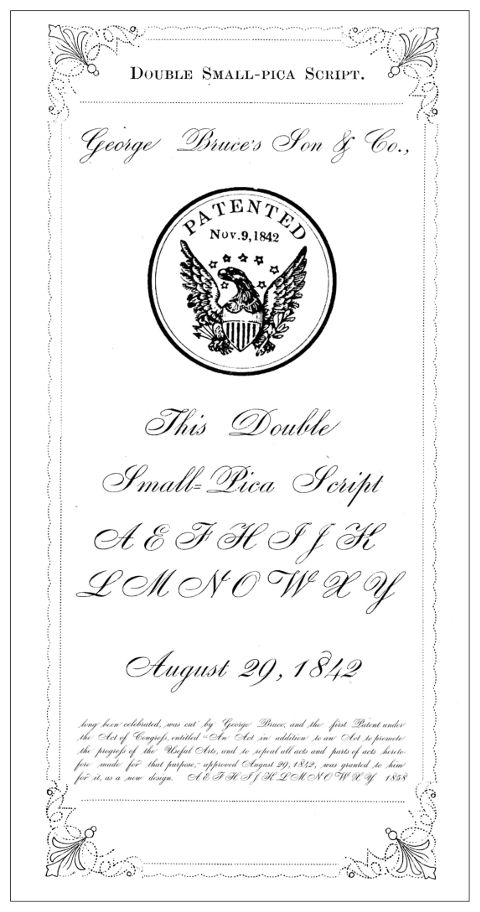 The Devil's Artisan would like to acknowledge the generous financial support of the Canada Council for the Arts and the Ontario Arts Council.