'Though an angel should write, / still 'tis devils must print.'

— Thomas Moore (1779–1852)
P22 TYPE SPECIMENS


BY RICHARD KEGLER
Preissig Calligraphic
The Czech typographer / artist / designer Vojtěch Preissig (1873–1944) spent the period 1910–30 in the United States, teaching at Columbia University in New York and later at the Wentworth Institute in Boston. He is credited with introducing the linoleum cut as a graphic-art technique to North America.
The culmination of his artistry was in his edition of Aucassin and Nicolette for the Limited Editions Club in 1931. It featured striking linocuts, and all the book, ornament and type design were by Preissig. The typeface used is known as Preissig Antiqua. It is at first glance a high-contrast roman typeface, but on closer inspection one can see that the entire typeface is made up of straight lines with stark angles in place of flowing curves.
Preceding his Antiqua typeface, which was featured in Aucassin and appeared in dozens of other books published by the Czech state printing office, Preissig developed a type design that remained unpublished until recently. The design features an accompanying italic as well as small caps. Preissig originally named the typeface after his former employer in New York, Butterick Publishing Co. The Butterick typeface anticipates the full angularity of Preissig Antiqua but also retains a heavy calligraphic influence.
The P22 digital version of 'Butterick' was started shortly after I saw the original drawings in an exhibit in Prague in 2004. A sympathetic security guard allowed a few photographs and the contraband images fuelled a rapid development of the typefaces. In 2005 other images of the faces were published and it seemed that the lack of exclusive access might lead another intrepid type revivalist to scoop P22. Many years later we realized that this unique face needed to enter the world of contemporary design. We now present P22 Preissig Calligraphic as the newest P22 type foundry release for 2019.
You can download a modern interpretation of this font. Purchase Preissig Calligraphic at P22 Type Foundry.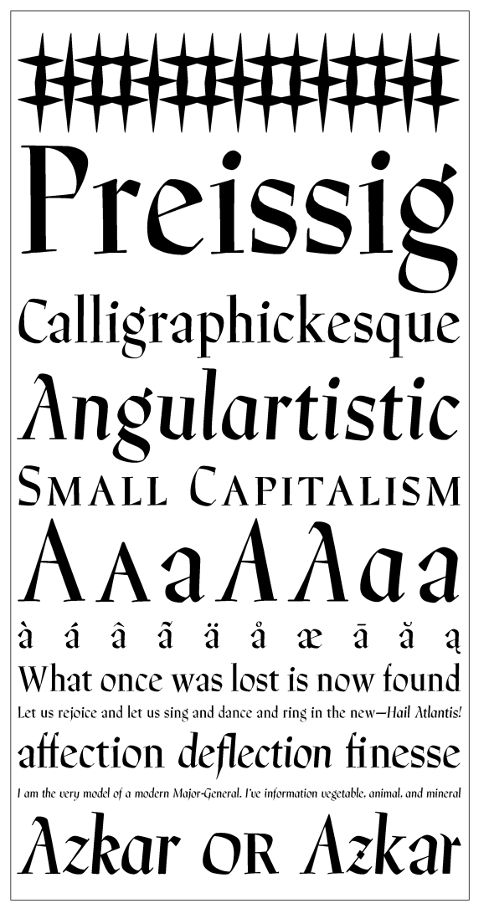 The Devil's Artisan would like to acknowledge the generous financial support of the Canada Council for the Arts and the Ontario Arts Council.