'Though an angel should write, / still 'tis devils must print.'

— Thomas Moore (1779–1852)
PREVIOUS ISSUES
DEVIL'S ARTISAN #43, FALL / WINTER 1998
A Special Issue on Women and Printing
Seeing Women as They Are. By Virginia MacDonnell Eichhorn.
A Canadian in New York: Ellen Simon. By Diane Egerton.
A Report on A Protestant Upbringing: an Exhibition of Woodcuts by Margaret Lock. By Michelle Hogan-Walker.
A Review of The Art & History of Books (Oak Knoll). By Margaret Lock.
Printed offset on the Heidelberg KORD at the printing office of the Porcupine's Quill in the Village of Erin, Wellington County, Ontario, Canada.
Smyth sewn into 16-page signatures. With coloured endleaves, hand-tipped front and back.
Keepsake laid in is one of four related etchings by Rebecca Cowan. Signed, and numbered, each in an edition of 100.
The cover was printed offset by Tim Inkster at the Porcupine's Quill after an etching entitled Pedestal by Yael Brotman.
The Devil's Artisan would like to acknowledge the generous financial support of the Canada Council for the Arts and the Ontario Arts Council.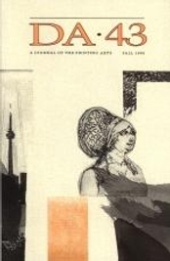 In This Issue:
Seeing Women as They Are. By Virginia MacDonnell Eichhorn
A Canadian in New York: Ellen Simon. By Diane Egerton
A Report on A Protestant Upbringing: an Exhibition of Woodcuts by Margaret Lock. By Michelle Hogan-Walker
A Review of The Art & History of Books (Oak Knoll). By Margaret Lock