'Though an angel should write, / still 'tis devils must print.'

— Thomas Moore (1779–1852)
PREVIOUS ISSUES
DEVIL'S ARTISAN #65, FALL/WINTER 2009
Arnaud Maggs & Frank Newfeld
DA 65 (Fall 2009) features the work of Frank Newfeld and Arnaud Maggs.
The issue includes A Conversation with Frank Newfeld, transcribed from a recording made in June, 2009. I, Illustrator is an essay by Frank Newfeld. Arnaud Maggs: Back to Ink by Robert Tombs. The Gauntlet Press's Original Emblem by Martin Howley. Chester Gryski reviews Wesley Bates' In Black & White: A Wood Engraver's Odyssey. Shane Neilson reviews The Surface of Meaning: Books and Book Design in Canada by Robert BRinghurst. Will Rueter reviews Pie Tree Press: Memories from the Composing Room Floor by Jim Rimmer.
The Rogue's Gallery features Frank Newfeld's long-time mentor at McClelland & Stewart, Hugh Kane.
The Dingbat, Ornament and Fanciful Initials feature presents Laurentia II, a set of initials designed by Frank Newfeld for Creatures (Douglas & McIntyre, 1998).
The occasional photographs include one of Frank Newfeld bequeathing his linocut tools to George A Walker, a couple taken at the Coach House Press Wayzgoose in September, 2009, and a couple taken at the Gaspereau Wayzgoose in October, 2009.
Printed offset on the Heidelberg KORD at the printing office of the Porcupine's Quill in the Village of Erin, Wellington County, Ontario, Canada. Smyth sewn into 16-page signatures. With coloured endleaves, hand-tipped, front and back.
Keepsake laid in is after a scraperboard by Frank Newfeld. Printed digital four-colour on an Indigo Press at Ampersand Printing (Guelph). The cover was printed offset by Tim Inkster at the Porcupine's Quill and features an album cover designed by Arnaud Maggs.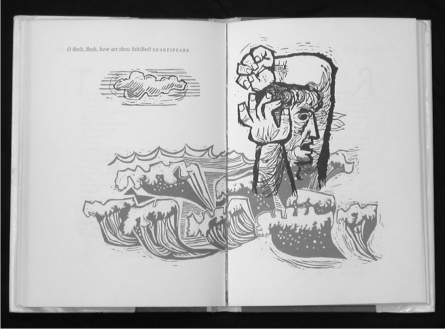 Page spread from
Rivers Among Rocks
by Ralph Gustafson. Illustrated by Frank Newfeld.
The Devil's Artisan would like to acknowledge the generous financial support of the Canada Council for the Arts and the Ontario Arts Council.