'Though an angel should write, / still 'tis devils must print.'

— Thomas Moore (1779–1852)
A ROGUES' GALLERY

OF THE CANADIAN BOOK AND PRINTING ARTS
Peter Dorn
Peter Dorn, RCA, FGDC, has a long history and broad range in printing and graphic design in Canada. He was born in Germany and apprenticed there as a compositor while also studying graphic design. When Dorn came to Canada in 1953, he faced an obstacle; he spoke neither English nor French. He found work at Eaton's of Canada as a mover of stock. On learning that Eaton's had a printing operation for its catalogues, and about its willingness to give him the opportunity to work there, Dorn returned to being a compositor.
In 1956, Dorn met Allan Fleming who introduced him to Carl Dair and to Dair's typography course at OCA (now OCADU). Later, under Harold Kurschenska's guidance, Dorn started to design books at University of Toronto Press. When Kurschenska left, Dorn succeeded him as the typographer of the Press. His design for The Violin (1969) won an award for typographic excellence from the New York Type Directors Club.
Dorn has his own private press, the Heinrich Heine Press. He was a member of the Guild of Hand Printers, organizing Wrongfount 2 and subsequent Wrongfounts and contributing Voyage of the Mood (1963), Joe Rosenblatt's first book of poetry, to WF2. His Selected Poems of Heinrich Heine translated by Barker Fairley was recognized at Leipzig in 1965. Dorn was also a member of Quadrats, a group of printing professionals that met at Massey College. In 1968, Dorn studied at Hochschule für Grafik und Buchkunst in Leipzig. Queen's University hired Dorn in 1971 to inaugurate its Graphic Design Unit and to develop Queen's corporate identity. In 1975 he was made a Fellow of the Graphic Designers of Canada. Dorn retired from Queen's in 1995.
See also Brian Donnelly, 'Revolutionary Ink: Negotiating a Canadian Modern in the Work of Peter Dorn,' DA no. 55 (Fall / Winter 2004), 45–56.
—Chester Gryski
The Devil's Artisan would like to acknowledge the generous financial support of the Canada Council for the Arts and the Ontario Arts Council.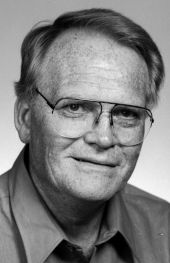 Peter Dorn
Credit: Photo by Wallace Berry. Queen's University Archives V102-56-6828.