'Though an angel should write, / still 'tis devils must print.'

— Thomas Moore (1779–1852)
A Brief History of
the Anchorage Press:


The First Twenty Years
by Andrew Steeves
Like so many people in the business, at least before the advent of the McPublishing and McCreative Writing programs that seem to have sprung up everywhere, I stumbled into publishing by accident. I was as ignorant of typography, printing and books as I was empty of intention. When I finally admitted to myself that publishing was going to be more than a brief stop-over on my way to another career, it became clear that I'd better learn something about what I was doing, and fast.
I reacted to this discovery in three ways (none of which included the act of enrolling in anything). First, I read everything I could get my hands on about typography, printing and publishing. Second, I got my hands dirty by immersing myself in the various methods of designing and producing books – from handset lead type to digital page layout. And third, I looked around for people with whom I could discuss the things I was learning.
One of the people I met early on in this process was the photographer and letterpress printer Thaddeus Holownia. We had an appropriate first meeting. I was rummaging through shelves of Canadian fiction at an antiquarian bookstore in Wolfville, Nova Scotia, when I overheard the owner in discussion with another patron. They were decrying the typographic ignorance of so many graphic designers. They were talking about custom-designed proprietary typefaces. Custom-designed proprietary typefaces? I decided that this was a discussion that I wanted to be a part of. When I stuck my head around the bookshelf, the bookseller introduced Holownia as someone I should know. (This demonstrates that a good bookseller knows his or her clients and provides more to a community than a mere mercantile function.)
Over the next few years, I came to know Holownia and his work quite well and have taken a particular interest in the books that he has published under the Anchorage Press imprint. When DA asked me to write about letterpress activity on the East Coast, it made sense to start here.
It's Friday morning and I've come to Holownia's studio in Jolicure, New Brunswick, to discuss the article and to muddle through the Anchorage Press archives, which has recently been excavated and catalogued by Holownia's assistant, John Haney. For me, to come to Jolicure is to come to the heartland of Canadian poetry. In good weather, you leave the prim and proper university town of Sackville and head east across the Tantramar on High Marsh Road – Charles G.D. Roberts and Douglas Lochhead whisper in your ear as you go. Across the marsh, the road hooks northward, and after a mile or so, on your left, beside a property line of wind-weathered spruce, is a pile of rocks that once formed the foundation of the poet John Thompson's house – the house that mysteriously burned down as Thompson's own life was tragically burning down. Further along, the dirt road turns to patchwork pavement in front of the cemetery where Thompson is buried.
Holownia and his family live next door to the cemetery in a contemporary structure with unpainted wooden shingles and steep Gothic-revival style dormers that echo the architecture common to the area. Located in an addition to the main house, Holownia's studio has the familiar lay-out of most letterpress studios I have been in: cabinets of type and Ludlow moulds, galley racks and overburdened bookshelves, all organized around a printing press. Holownia tends to keep many irons in the fire, and everywhere I look there are stacks of paper and projects in various stages of completion. There isn't a single square inch of exposed horizontal surface anywhere. Everything is covered in a protective layer of arrested activity.
Under a window that looks out on the driveway and the barnyard is a Vandercook 219 – a large, hand-cranked cylinder press capable of feeding a 19-by-25-inch sheet of paper. Vandercooks have become the press of choice among many contemporary letterpress artists. While they lack the snob appeal of Albions and other iron hand presses, cylinder proof presses are affordable and easy to operate and maintain; they also offer the printer a great degree of control over both inking and impression. Beside the Vandercook, on the side wall, is a Ludlow hot-metal linecaster. On the back wall of the studio, a large window looks out across Jolicure Pond, a man-made reservoir that is the subject of an ongoing series of photographs by Holownia. Works from the Jolicure Pond series were included in Monet's Legacy: Series – Order and Obsession, a major show held at the Hamburger Kunsthalle in Hamburg, Germany, September 28, 2001–January 20, 2002, which also included work by the likes of Monet and Andy Warhol.
As we sit down to talk, Holownia is telling me about his new show, Anatomy of a Pipeline, which will open at the Owens Art Gallery in Sackville the following Monday [ the show ran from November 10, 2003--January 11, 2004 ]. It comprises fifty colour photographs taken along the 568-kilometre-long Sable Gas pipeline. All are taken in the 7-by-17-inch format that Holownia is known for. In what I believe to be his boldest body of work to date, Holownia catalogues the movement of this industrial megaproject across the landscape. He needs to leave shortly to supervise the hanging of the show, so we attempt the formality of an interview, and failing, lapse into conversation about the press, publishing and printing.
The Anchorage Press evolved out of Holownia's experiences as a communications and fine arts student in Windsor, Ontario, and his experiences as a young artist in Toronto in the late 1960s and early 1970s. By that time Holownia was already making images and collections of images and had decided that photography was a means of expression for which he had facility. The Toronto arts community was less fragmented in those days, and a general enthusiasm for experimentation blurred the lines between technologies and disciplines. Holownia's involvement with A Space, an artist-run gallery, resulted in his meeting creative people from many fields, including Stan Bevington and others from Coach House Press. Through this early exposure to small-scale printing and publishing, Holownia realized the possibilities that books held as a vehicle for presenting his photographs.
When he came to New Brunswick to teach in the fine arts department at Mount Allison University in 1977, Holownia brought these ideas with him. Like most resourceful letterpress artists, he had begun to acquire the odds and sods of printing equipment that were being retired from local printshops; much of Holownia's equipment came from Sackville's Tribune Press.
Sometime about 1983, Holownia established a makeshift print-shop that 'squatted' in the basement of the university's library. This was accomplished with the help of people like Douglas Lochhead, who had been involved with letterpress printing while he was the librarian at Massey College in Toronto and was now working at Mount Allison. Among Lochhead's contributions was a tabletop Albion hand press that he had acquired while at Massey.
In an attempt to foster interest in printing and print history in the community, Holownia helped organize the 1987 Anchorage Symposium on Printing and Publishing in Atlantic Canada (1751–1987) in conjunction with the university's Centre for Canadian Studies. The keynote speakers were Bob Dawson and Douglas Lochhead. Patricia Fleming, Gerald Parker, Tom Vincent and others presented seminars. While many of the participants no doubt felt that the event was a success, it was a great disappointment to Holownia. This small gathering of scholars presenting papers to each other was a far cry from the dynamic arts community that he had envisioned.
That same year, Holownia – no doubt with his time at A Space Gallery and Coach House Press in mind – approached Mount Allison's administration with a more ambitious proposal. Holownia wanted to convert an old carriage house on campus into a 'poet's house' – a letterpress printshop with living space for an artist or writer-in-residence. He felt that an active press had the potential to be a centre of cultural activity both on the campus and in the community. Unfortunately, the administration did not understand or share his vision. Disappointed, Holownia took the local nickname of the building associated with the carriage house – 'the Anchorage' – and established his own imprint. By the fall of 1987, the Anchorage Press had moved out of the library and into the addition at Jolicure, and Holownia's thoughts of a formal partnership with the university vanished.
With the move to Jolicure in 1987, the Anchorage Press became a private press; this is not to say, however, that the university and the community have not benefited by its existence. Over the years, the Anchorage Press has produced books, exhibition catalogues and ephemera for the university. As well, every year before convocation, Holownia casts the names of the Mount Allison graduates in lead and prints them on the university's diplomas.
The real contribution, however, comes in the form of Holownia's generosity as a teacher. Each year, a few students from the fine arts department approach Holownia about book projects, looking for guidance and instruction. While letterpress printing isn't formally a part of the department's curriculum, more often than not Holownia offers these students what help he can on his own. In effect, the Anchorage Press is a bit of an unofficial satellite campus to Mount Allison University, and a portion of the press's annual output consists of work by Holownia's students. Holownia is also the faculty adviser for the annual student arts anthology Seven Mondays.
Thaddeus Holownia understands the importance of mentoring. When he was starting out as a freelance photographer and film editor in Toronto, Holownia went to see Allan Fleming at the University of Toronto Press. After looking at Holownia's portfolio of 35-mm work, Fleming suggested that a large-format view camera would be more sympathetic to the young photographer's aesthetic. Holownia took his advice to heart, and after experimenting with a borrowed 8-by-20-inch view camera discovered that Fleming was right. View camera work now forms the basis of his reputation as an artist.
Most of the students who produce books at the Anchorage Press are creating artist's books as a way of showcasing another form of artwork, usually photography. Some are simple folios sewn into paper wrappers. Others are more experimental. Almost always, the visual impact of the primary artwork is more sophisticated than the text, typography or printing. Exceptions to this are the collaborations between the photographer John Haney and the writer Amanda Jernigan, which are a skilful combination of text and image. I'm excited to report that Haney and Jernigan are in the process of founding a promising private press of their own.
For Holownia, the idea that the Anchorage is a teaching press is central. Before leaving for the gallery, he makes a point of looking through some of his favourite student publications with me, talking about the importance of teaching by doing. 'It's important for a teacher to model a work ethic, and to show students tangible things,' he says. 'Photography's all cerebral,' says Holownia. 'You don't actually have to handle the materials you're working with. The appeal of letterpress is that it's physical. You have this ability to get your hands in there and control the elements.'
Thaddeus Holownia has gone to the gallery, leaving me alone to look through the stacks of books and ephemera that are the result of twenty years of printing and publishing. While I've seen many of the books before, this is the first chance I've had to spend much time considering the catalogue as a whole. As I browse, I discover that if an interest in the tangible attracted Holownia to books in the first place, it is his skilful use of collaboration that has fuelled his evolution from the use of the artist's book as a presentation portfolio toward more sophisticated forms of bookmaking.
Generally, the Anchorage Press catalogue can be divided into conventionally offset-printed works, student works and Holownia's letterpress-printed works. As is typical of a private press, the works in the Anchorage catalogue represent the range of interests of the proprietor and his circle. They also indicate the level of community involvement of the publisher. Books like the conventionally designed and perfect-bound anthology Nine Allisonian Poets (1989), edited by Michael Thorpe, a former Mount Allison professor, the handsome oversized chapbook The History of Mount Allison University (1989) and the Seven Mondays student anthologies are directly related to Holownia's involvement in the university community. Exhibition catalogues like Alex Colville, Selected Drawings (1993) suggest the same sort of relationship with the local art gallery. A string of publications – including As the Eyes of Lyncaeus: A Celebration for Douglas Lochhead (1990), The Third Hand (1994) and Expulsion from Paradise: Elizabeth Bishop, 1927–1957 (1995) – indicate the degree to which the interests and involvements of one of Holownia's collaborators and friends, the Nova Scotia poet and essayist Peter Sanger, have influenced the output of the Anchorage Press. All of these books are the result of people in the community turning to Holownia with project proposals. All of these projects are the result of relationships.
One offset-printed project that merits expanded mention is The Third Hand. Printed at the Tribune Press in 1994 in an edition of 250 copies, this chapbook served as the catalogue for an exhibition of eighteenth- and nineteenth-century hand tools held at the Mary E. Black Gallery, Halifax. Peter Sanger's text consists of twenty short poems or riddles that hint at each tool's use (each tool's identity is revealed at the back of the publication). The frontispiece is a 7.8-by-7.8-cm chromogenic print, made by Thaddeus Holownia and tipped into the book. The combination of typography, text and materials is harmonious. Long after the exhibition itself has finished, this object continues to be a meaningful cultural artifact.
Holownia's first major letterpress project, undertaken shortly after the move to Jolicure, was Tribute to Judy Jarvis (1987), a portfolio of nine silver gelatin prints. Both attractive and valuable on the strength of the photographs alone, this portfolio nonetheless lacks the thing that makes letterpress printing unique. Outside of the titles and colophon, there is no significant text.
During the eight years that followed the Jarvis portfolio, Holownia produced a number of smaller photo portfolios and fine letterpress keepsakes in collaboration with poets such as Douglas Lochhead and Harry Thurston. One example, Artefact: Eight Museum Poems (1992), is a portfolio of three platinum photographs by Holownia interleaved with eight poems by Michael Thorpe. This is Holownia's first collaboration that presents a longer text by a local writer together with a collection of his images.
In 1995, Thaddeus Holownia issued Ironworks, his second collaboration with Peter Sanger and perhaps his most important book to date. Sanger was then a professor of humanities at the Nova Scotia Agricultural College in Truro – a college Holownia attended briefly as a student before heading to the University of Windsor. After a few visits with Sanger in Truro, Holownia expressed interest in collaborating on a book that would centre around Sanger's collection of old iron tools. 'I think he was looking for subjects and saw the possibility of the tools,' Sanger told me when I asked him about his work with Holownia. 'We share a fascination with "used objects" and "objects of use," and how the demarcation between implements of use and implements of art is difficult to draw, if it can be drawn at all.'
At Holownia's request, Sanger selected and prepared a number of iron artefacts and sent them to Holownia for photographing. He also ordered the seven resulting platinum prints made by Holownia and wrote a poem to accompany each. The book – designed by Robert Tombs, composed in Monotype Baskerville by M and H Type, San Francisco, and printed by Holownia on his Vandercook press – pairs the tipped-in prints and their accompanying poems on the verso and recto sides of each opening respectively. An edition of twenty copies was hand-bound in boards wrapped in canvas and quarter-bound leather and slipcased by Fernand Daigle.
It is instructive to note that the Anchorage Press later issued an affordably priced, offset-printed trade edition of Ironworks in 2001, in an edition of 1,500 copies. This edition is intended to reach a wider readership, and indeed will be most appreciated by those who have never seen the letterpress edition on which it is based. The saturated, tri-tone reproductions of the images sit immobile on the page, while the iron tools of the platinum prints float above the rich, flat black backgrounds of the originals. The display-size digital Baskerville of the trade edition feels chunky and excessively word-spaced while the letterpress typography is graceful, shimmering in its three-dimensionality. The coated stock and varnished images of the trade printing seem at odds with the warm text paper and flat photographic paper of the letterpress edition.
These criticisms suggest all too well the difficulties of translating a work conceived in one medium to another, and the different strengths and limitations of these various forms of reproduction -- photographic, letterpress and offset lithography. Nevertheless, the trade edition of Ironworks is one of the most ambitious offset-printed poetry chapbooks ever produced in Canada. Ironworks, in either edition, will be remembered as a watershed work for both Holownia and Sanger.
Another recent collaboration that merits mention is Ova Aves (2003). This thirty-six page chapbook includes thirteen chromogenic prints by Holownia, accompanied by thirteen poems by the Nova Scotia naturalist and poet Harry Thurston. The bird's eggs in the photographs, selected from a collection at Mount Allison University, have a planetary quality when presented against a black backdrop, and each poem relates directly to an image. This book was designed by Robert Tombs, composed in Monotype Walbaum by Michael and Winifred Bixler, printed by Holownia and hand-bound in boards wrapped with Japanese paper and boxed by Fernand Daigle. Ova Aves successfully integrates image, text, typography, paper and binding, and is a stunning production.
Thaddeus Holownia continues to collaborate with both Sanger and Thurston. With Thurston, a new book on salmon fishing and salmon rivers is underway. With Sanger, a project entitled Arborealis again extends Anchorage's reach, featuring a larger body of work by both contributors. The basis of Arborealis is a body of images made by Holownia at Gros Morne National Park, Newfoundland. These are married with thirty poems written by Sanger. According to Sanger, this book is a significant departure from Ironworks as 'the poems are not linked at every point to a specific photograph. This time, the linkage of text and illustration is oblique.' Holownia has also been collaborating with the American poet Marie Howe on a body of images that he has made at Walden Pond.
In discussing his collaboration with Thaddeus Holownia, Peter Sanger suggested that the thing that makes the Anchorage Press an exceptional enterprise is Holownia's great love for the work he does and for the world in which he works. This may sound maudlin, old-fashioned even, but sitting in his studio, sorting through twenty years of his work, I sense that it's true. There's a great love at work here. It's there in his photography. It's there in his skilful collaborations and his generous guidance of so many students. I saw it, too, in the amusement and shy pride with which he showed me Wrestlers through the Eye of a Pinhole (2002) – a goofy collection of fifteen silver gelatin prints of toy wrestlers his teenage son, Joseph, made with a pinhole camera.
Thaddeus Holownia and I are always debating the merits of doing certain things in certain ways. We often disagree about the point at which the blind heroics of handwork outstrip the benefits of the result. Usually, I'm the one who's tilting at the windmill. But when I asked Holownia why a photographer would bother with constrained and antiquated technologies like Ludlow linecasting and letterpress printing, he grinned and told me that he likes the complete independence and artistic control that they offer. 'I like knowing that I can get out of bed at three in the morning, come down here, cast some type and print something.' Yes, that's love indeed.
The Anchorage Press,
440 Jolicure Road,
Jolicure, N.B., E4L 2S4.
Telephone: (506) 536-2664
e-mail: Thaddeus@holownia.com
web: http://www.anchoragepress.ca/
see also: http://www.holownia.com/

The Devil's Artisan would like to acknowledge the generous financial support of the Canada Council for the Arts and the Ontario Arts Council.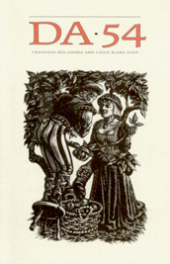 In This Issue:
A Brief History of the Anchorage Press: The First Twenty Years.
Louis Blake Duff: A Neglected Icon in Canada's Print History.
Dizzy and Out of Breath: Running the Goat Books and Broadsides.
Want More?