'Though an angel should write, / still 'tis devils must print.'

— Thomas Moore (1779–1852)
Display Advertising
Push the arrows in the bottom right of this window for complete specifications.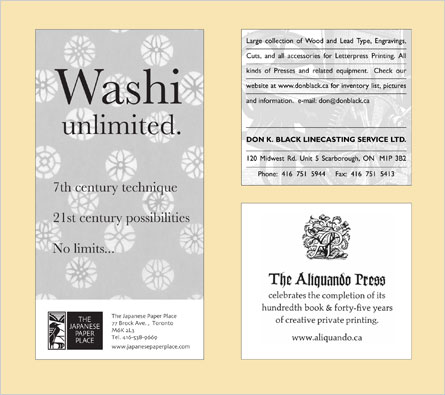 Display ads are welcomed. A full page (vertical, no bleeds) is 7.0625" high x 3.625" wide and sells for $100. A half-page (horizontal) is 3.375" high x 3.625" wide and sells for $50.
Display ads are due in the spring on March 25 for publication May 1. In the fall ads are due October 25 for publication December 1. Pdf files normally work well. Space reservation is welcomed anytime.
Contact Tim Inkster.
The Devil's Artisan is typically published in 800 copies, many of which are sold in Canada, though we are pleased to engage loyal subscribers from Scotland, England, Wales, Australia, Israel and seventeen states of the American Union. The magazine is especially proud of its long-standing relations with the National Library of Scotland, the National Library of Wales, the Saint Bride Printing Library (London) and the London College of Printing, the libraries of Cornell University, Columbia University, the State University of Queensland, Australia, the Grolier Club of New York, and the American Antiquarian Society; also the Arts and Letters Club of Toronto, the Library of Massey College, the Thomas Fisher Rare Book Library and the Alcuin Society of Vancouver.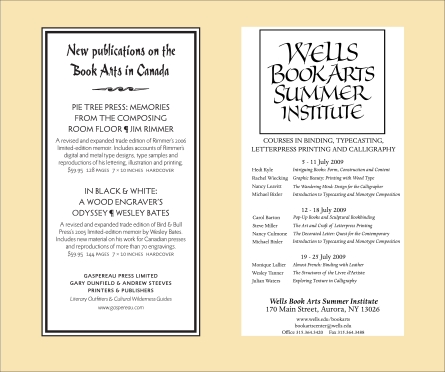 The Devil's Artisan is remarkable in Canadian publishing in that most of the physical production of our journal is completed in-house at the shop on the Main Street of Erin Village. We print on a twenty-five inch Heidelberg KORD, typically onto acid-free Zephyr Antique laid. The sheets are then folded, and sewn into signatures on a 1907 model Smyth National Book Sewing machine.
To take a virtual tour of the pressroom, visit us at YouTube for a discussion of offset printing in general, and the operation of a Heidelberg KORD in particular. Other videos include Four Colour Printing, Smyth Sewing and Wood Engraving. Photographs of production machinery used on these pages were taken by Sandra Traversy on site at the printing office of the Porcupine's Quill, December 2008.
The Devil's Artisan would like to acknowledge the financial support of the Canada Council for the Arts, and the Ontario Arts Council.
'We have been a subscriber forever or since DA began, whichever is longer.... Yours is quite a wonderful little journal.' — R. Russell Maylone, Curator, Northwestern University Library, Evanston, Illinois