'Though an angel should write, / still 'tis devils must print.'

— Thomas Moore (1779–1852)
CANADA TYPE SPECIMENS


BY PATRICK GRIFFIN
Albertan Pro
Albertan was designed by acclaimed Canadian typographer Jim Rimmer, initially for use in limited edition books at Rimmer's Pie Tree Press. First cut as a metal typeface in 1982, Albertan has become a Canadian text classic due to its 'balanced approach at transforming the traditional roman model by infusing many transitional traits into the forms without sacrificing the integrity of the calligraphic influence or the functionality of the overall setting.' Albertan was the first Jim Rimmer typeface to make the transition from metal to digital in 2012, when Canada Type designers remastered and expanded the family.
Albertan Pro contains:
14 fonts containing over 670 glyphs
6 weights
an inline font
true italics
small caps
complete standard ligature sets
stylistic alternates
6 kinds of figures
automatic fractions
ordinals
case-sensitive forms
extended Latin language support
class-based kerning
Purchase Albertan Pro at Canada Type.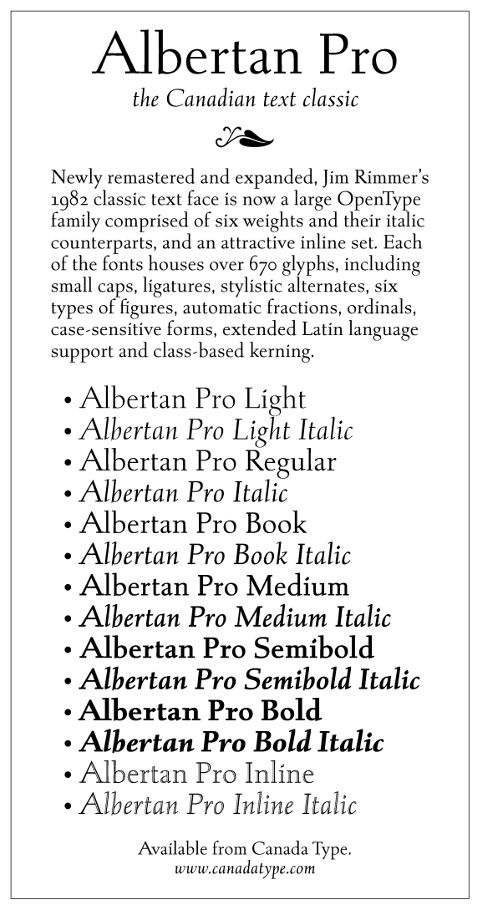 The Devil's Artisan would like to acknowledge the generous financial support of the Canada Council for the Arts and the Ontario Arts Council.