'Though an angel should write, / still 'tis devils must print.'

— Thomas Moore (1779–1852)
CANADA TYPE SPECIMENS


BY PATRICK GRIFFIN
Salden
Salden was designed as a tribute to Dutch designer Helmut Salden, whose cover designs influenced lettering and book designers in the Netherlands throughout the 20th century. Although Salden never created a complete font, the drawings and typographic materials found in his archives (provided by Museum Meermanno in The Hague) were rich with source materials from which Canada Type's designers were able to draw. The result is a set of typefaces that 'covers the gamut of Salden's lettering talents' from 'his untamed, chunky flare/sans serif in two widths' to 'his one-of-a-kind scripty upright italic lowercase shapes'.
Salden contains:
6 fonts containing 597 to 976 glyphs
Pan-European glyph sets
some form alternates for Cyrillic and Greek sets
Some fonts also contain:
small caps
ligatures
alternates
lining and oldstyle figures
Purchase Salden at Canada Type.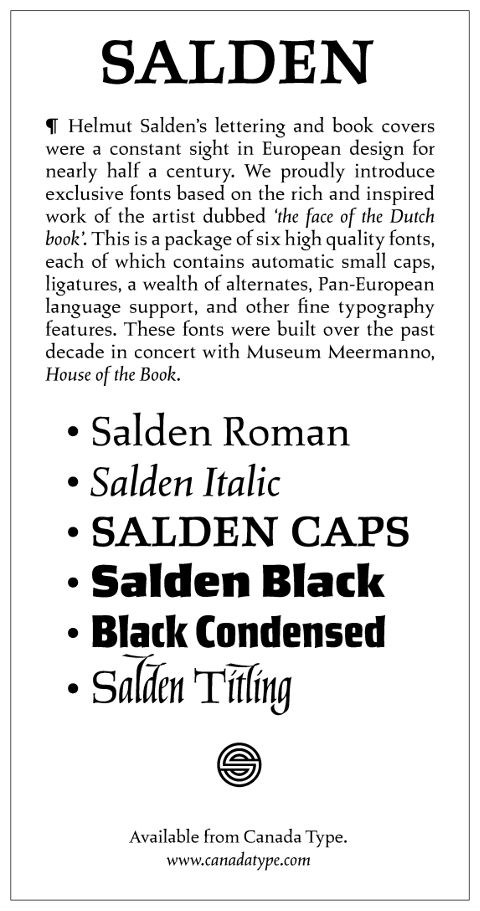 The Devil's Artisan would like to acknowledge the generous financial support of the Canada Council for the Arts and the Ontario Arts Council.