'Though an angel should write, / still 'tis devils must print.'

— Thomas Moore (1779–1852)
P22 TYPE SPECIMENS


BY RICHARD KEGLER
Goudy Cloister Initials
In 1917, Frederic Goudy drew a floriated Capital A in the style of early manuscript historiated initial letters for his own book, The Alphabet. The director of American Type Founders (ATF) convinced Goudy to draw the full alphabet for commercial release as a 'typeface'. The ornamental type known as Cloister Initials came in sizes from 48 to 144 pt and later was released by the Lanston Monotype Company, where Goudy was the art director. These metal releases were well loved and used prominently throughout the 1920s to the 1940s.
With the evolution of type formats, many older designs were adapted to new technologies. Cloister Initials were made into phototype as well as dry transfer lettering in the 1960s to the 1980s. With the introduction of computer type, they became one of the early candidates for revival. They were made as EPS files by Gerald Giampa at the time he acquired the remnants of Lanston in the 1980s. P22 Type Foundry redrew the Cloister Initials in 2005 and reformatted the EPS files to font format. In 2014, we decided to rework the font from the most accurate source material. This involved a fortuitous discovery of original 120-pt ATF matrices and the one casting machine that could make new type from them. This recasting is documented online at https://tinyurl.com/goudyinitials
Today a variety of new technologies co-mingle with contemporary letterpress printing. The Cloister Initials have been introduced to 3D printing, laser cutting and photopolymer. There is no judgment as to what is 'best' but it is interesting to compare the results from these many technologies. While Goudy drew his inspiration from manuscripts that pre-date movable type printing, his designs have complexity that test the limits of new technologies, but a timeless flavour that transcends any given format.
You can download a modern interpretation of this font. Purchase Goudy Cloister Initials at P22 Type Foundry.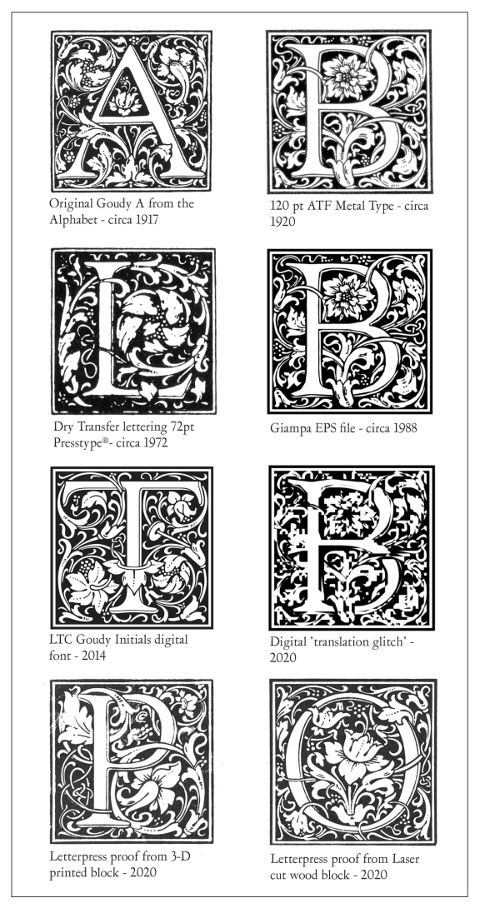 The Devil's Artisan would like to acknowledge the generous financial support of the Canada Council for the Arts and the Ontario Arts Council.