'Though an angel should write, / still 'tis devils must print.'

— Thomas Moore (1779–1852)
PREVIOUS ISSUES
DEVIL'S ARTISAN #16, SPRING / SUMMER 1985
Bruce Rogers' 'Favourite Thirty'
How I Came to Collect Bruce Rogers. By Thomas T Schweitzer.
Bruce Rogers' `Favourite Thirty'. By Theophile Homard.
Collecting American Type Specimen Books. By Stephen O Saxe.
Reports on Private and Fine Press Books.
Book Reviews by Donald Taylor and Robert Brandeis.
Printed offset on the Heidelberg KORD at the printing office of the Coach House Press on bpnichol lane, Toronto, Ontario, Canada.
Keepsake laid in was designed and produced by jwcurry.
The cover features a wood engraving by George Walker, designed and produced at the Columbus Street Press, Toronto.
The Devil's Artisan would like to acknowledge the generous financial support of the Canada Council for the Arts and the Ontario Arts Council.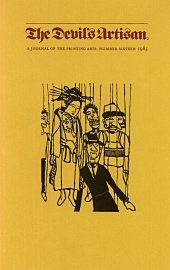 In This Issue:
How I Came to Collect Bruce Rogers. By Thomas T Schweitzer
Bruce Rogers' 'Favourite Thirty'. By Theophile Homard
Collecting American Type Specimen Books. By Stephen O Saxe