'Though an angel should write, / still 'tis devils must print.'

— Thomas Moore (1779–1852)
Previous Issues">
DEVIL'S ARTISAN #18, SPRING / SUMMER 1986
THE HUNTER ROSE COMPANY: A BRIEF HISTORY
The Hunter Rose Company: A Brief History. By Elizabeth Hulse.
The Art of Rubbing and Its Role in the Development of Printing. By Grant Karcich.
Confessions of a Former Vancouverphobe. By Glenn Goluska.
Reports on Private and Fine Press Books, including The Florin Press, Circle Press and The Stone House Press.
Book Reviews by William Rueter, Eric Swanick, Thelma Blount, and David Kotin.
Printed offset on the Heidelberg KORD at the printing office of the Coach House Press on bpnichol lane, Toronto, Ontario, Canada.
Keepsake laid in is a wood engraving of a unicorn by Denis Milton, Toronto.
The cover was designed by William Rueter.
The Devil's Artisan would like to acknowledge the financial support of the Government of Canada through the Canada Magazine Fund (CMF) through the Support for Arts and Literary Magazines (SALM) component toward our editorial and production costs. Thanks, as well, for the generosity of the Canada Council for the Arts, the Ontario Arts Council, and the Sleeman Brewing Company.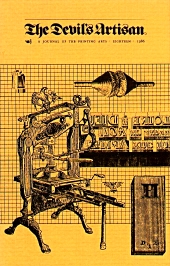 The Hunter Rose Company: A Brief History. By Elizabeth Hulse
The Art of Rubbing and Its Role in the Development of Printing. By Grant Karcich
Confessions of a Former Vancouverphobe. By Glenn Goluska