'Though an angel should write, / still 'tis devils must print.'

— Thomas Moore (1779–1852)
PREVIOUS ISSUES
DEVIL'S ARTISAN #26, SPRING / SUMMER 1990
Lord Peter's Library: An Essay in Whimsical Bibliography, Part II
George McDonagh, 1917-1989.
Lord Peter's Library: An Essay in Whimsical Bibliography. By Susannah D Ketchum.
Montreal TYpe Foundry.
Book Reviews by William Rueter, Robert Brandeis, Paul Hayden Duensing and Roger Burford Mason.
Printed offset on the Heidelberg KORD at the printing office of the Porcupine's Quill in the Village of Erin, Wellington County, Ontario, Canada.
Smyth sewn into 16-page signatures.
Keepsake laid in was printed letterpress by Eric J. Swanick at Euurpe Press, Fredericton, New Brunswick.
The cover was also printed letterpress by Fred and Margaret Lock at Locks' Press, Kingston, Ontario after a woodcut by Margaret Lock.
The Devil's Artisan would like to acknowledge the generous financial support of the Canada Council for the Arts and the Ontario Arts Council.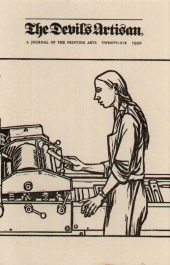 Not available.
In This Issue:
George McDonagh, 1917-1989
Lord Peter's Library: An Essay in Whimsical Bibliography. By Susannah D Ketchum
Montreal TYpe Foundry
Book Reviews by William Rueter, Robert Brandeis, Paul Hayden Duensing and Roger Burford Mason