'Though an angel should write, / still 'tis devils must print.'

— Thomas Moore (1779–1852)
PREVIOUS ISSUES
DEVIL'S ARTISAN #35, FALL / WINTER 1994
Checklist to the Works of Rosemary Kilbourn
An essay by Rosemary Kilbourn, and a checklist to the works of Rosemary Kilbourn by Randall Speller and Diane Egerton. Includes reproductions of sixteen wood engravings by Rosemary Kilbourn.
A Report on The Good Wood Skow by George Walker.
A Review of Wesley Bates The Point of the Graver by Gayle Garlock.
Other reviews by Roger Burford Mason, Randall Speller and Will Rueter.
Printed offset on the Heidelberg KORD at the printing office of the Porcupine's Quill in the Village of Erin, Wellington County, Ontario, Canada.
Smyth sewn into 16-page signatures. With coloured endleaves, hand-tipped, front and back.
Keepsake laid in was printed letterpress by Fred and Margaret Lock after a wood engraving by Rosemary Kilbourn.
The cover was printed offset by Tim Inkster at the Porcupine's Quill and features two additional wood engravings by Rosemary Kilbourn.
The Devil's Artisan would like to acknowledge the generous financial support of the Canada Council for the Arts and the Ontario Arts Council.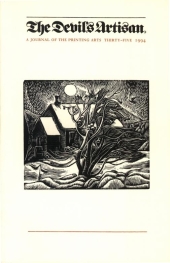 In This Issue:
An essay by Rosemary Kilbourn, and a checklist to the works of Rosemary Kilbourn by Randall Speller and Diane Egerton. Includes reproductions of sixteen wood engravings by Rosemary Kilbourn
A Report on The Good Wood Skow by George Walker
A Review of Wesley Bates The Point of the Graver by Gayle Garlock