'Though an angel should write, / still 'tis devils must print.'

— Thomas Moore (1779–1852)
PREVIOUS ISSUES
DEVIL'S ARTISAN #39, FALL / WINTER 1996
Yvonne Skargon—A Garden of My Own
Form Follows Function: Type Design Since 1440. By Monica Biagioli.
Yvonne Skargon—A Garden of My Own. By Alan Horne. Includes six reproductions of engravings by Yvonne Skargon, and a photograph of the artist.
A Report on Fine Printing: the Private Press in Canada. An Exhibition organized by Alan Horne and Guy Upjohn for the Canadian Bookbinders and Book Artists Guild. By Reg Beatty.
A Review of Gerard Brender a Brandis' (and Patrick Lima's) Portraits of Flowers. By Joy Tyndall.
Printed offset on the Heidelberg KORD at the printing office of the Porcupine's Quill in the Village of Erin, Wellington County, Ontario, Canada.
Smyth sewn into 16-page signatures. With coloured endleaves, hand-tipped front and back.
Keepsake laid in was printed letterpress by Stan Bevington at The Coach House Press, Toronto, off a block engraved by Yvonne Skargon.
The cover was designed and printed offset by Tim Inkster at the Porcupine's Quill. The cover features two additional engravings by Yvonne Skargon.
The Devil's Artisan would like to acknowledge the generous financial support of the Canada Council for the Arts and the Ontario Arts Council.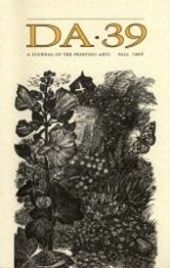 In This Issue:
Form Follows Function: Type Design Since 1440. By Monica Biagioli
Yvonne Skargon—A Garden of My Own. By Alan Horne. Includes six reproductions of engravings by Yvonne Skargon, and a photograph of the artist