'Though an angel should write, / still 'tis devils must print.'

— Thomas Moore (1779–1852)
PREVIOUS ISSUES
DEVIL'S ARTISAN #40, SPRING / SUMMER 1997
The Lithographs of Frederick Hagan
The Lithographs of Frederick Hagan. By Catherine Van Baren. Includes ten reproductions of Hagan's lithographs, and a photograph of the artist taken by his son.
`Trails': Moments in Time on the Bruce Trail. By Lyndia Terre. Includes six reproductions of etchings by Lyndia Terre.
In Memoriam: Ethel Lucille Oille, 1912--1997. A Report on The Canadian Heart: Ozias Leduc. By Diane Egerton.
A Review of Beduer Gastronomique, Wood Engravings by Alan Stein; The Embittered Beach Chair, Linocuts by Leah Springate; and 20 Blind Pig Sayings, by Gregory Smith. By Judy Donnelly.
Printed offset on the Heidelberg KORD at the printing office of the Porcupine's Quill in the Village of Erin, Wellington County, Ontario, Canada.
Smyth sewn into 16-page signatures. With coloured endleaves, hand-tipped front and back.
Keepsake laid in was printed letterpress by George Walker off a wood block by Frederick Hagan.
The cover was designed and printed offset by Tim Inkster at the Porcupine's Quill. The cover features a duotone reproduction of a lithograph entitled `Sunbather on the Lithograph Press', by Frederick Hagan.
The Devil's Artisan would like to acknowledge the generous financial support of the Canada Council for the Arts and the Ontario Arts Council.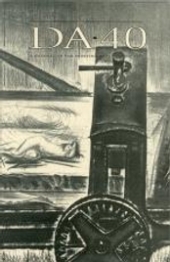 In This Issue:
The Lithographs of Frederick Hagan. By Catherine Van Baren. Includes ten reproductions of Hagan's lithographs, and a photograph of the artist taken by his son
'Trail'': Moments in Time on the Bruce Trail. By Lyndia Terre. Includes six reproductions of etchings by Lyndia Terre