'Though an angel should write, / still 'tis devils must print.'

— Thomas Moore (1779–1852)
PREVIOUS ISSUES
DEVIL'S ARTISAN #46, SPRING / SUMMER 2000
Featuring the Work of Claire Pratt
Claire Pratt: Art and Adversity by Robert Brandeis.
The Graphic Work of Claire Pratt by Robert Brandeis.
The Art of Isabel Cleland Rowe by Alysa-Beth Engel.
Report on Pictorial Title Pages and Frontispieces by Margaret Lock.
Printed offset on the Heidelberg KORD at the printing office of the Porcupine's Quill in the Village of Erin, Wellington County, Ontario, Canada.
Smyth sewn into 16-page signatures. With coloured endleaves, hand-tipped, front and back.
Keepsake laid in was printed letterpress by Margaret Lock after a wood engraving by Claire Pratt.
The cover was printed offset by Tim Inkster at the Porcupine's Quill and features two additional wood engravings by Claire Pratt.
The Devil's Artisan would like to acknowledge the generous financial support of the Canada Council for the Arts and the Ontario Arts Council.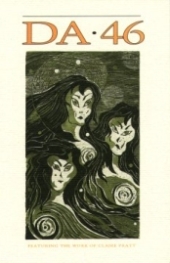 In This Issue:
Claire Pratt: Art and Adversity by Robert Brandeis
The Graphic Work of Claire Pratt by Robert Brandeis
The Art of Isabel Cleland Rowe by Alysa-Beth Engel
Report on Pictorial Title Pages and Frontispieces by Margaret Lock