'Though an angel should write, / still 'tis devils must print.'

— Thomas Moore (1779–1852)
PREVIOUS ISSUES
DEVIL'S ARTISAN #61, FALL/WINTER 2007
Book Design in the Eighteen-Nineties
Original printed wraps. 92 pp. Octavo.
DA 61 (Fall 2007) features a long essay by Margaret Lock of Locks' Press, Kingston, on the subject of Bliss Carman, Tim Meteyard and book design in the eighteen-nineties.
Rogue's Gallery features William Lyon Mackenzie.
The Dingbat, Ornament and Fanciful Initials feature includes ten large format initials and ten small tailpieces.
A new feature of occasional photographs includes a portrait of George Walker pretending to engrave a table in the Arts & Letters Club, Toronto; and an image of Stan Bevington presenting the seasonal candle to pressman Tony Glenesk at Coach House Printing.
Printed offset on the Heidelberg KORD at the printing office of the Porcupine's Quill in the Village of Erin, Wellington County, Ontario, Canada.
Smyth sewn into 16-page signatures. With coloured endleaves, hand-tipped, front and back.
Keepsake laid in was designed and printed letterpress, after Bliss Carman's poem `The Poor Traveller', by Nicholas Kennedy at Trip Print Press in Toronto.
The cover was printed offset by Tim Inkster at the Porcupine's Quill and features a watercolour of Bliss Carman painted by Thomas Meteyard.
The Devil's Artisan would like to acknowledge the generous financial support of the Canada Council for the Arts and the Ontario Arts Council.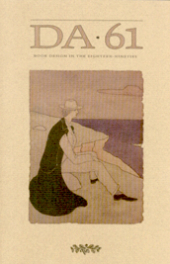 In This Issue:
Bliss Carman and Book Design in the 1890s, by Margaret Lock of Locks' Press, Kingston
A Rogues' Gallery of the Canadian Book and Printing Arts, featuring William Lyon Mackenzie
More Dingbats, Ornaments and Fanciful Initials
Includes Amusing Photographs of Stan Bevington, Tony Glenesk and George A Walker