'Though an angel should write, / still 'tis devils must print.'

— Thomas Moore (1779–1852)
PREVIOUS ISSUES
DEVIL'S ARTISAN #71, FALL/WINTER 2012
Richard Landon and James Reaney's Alphabet
Recent issues of the Devil's Artisan are available digitally directly from our own proprietory eBook store in PDF format. The magazine is also available digitally through Magzter for various devices, including Android, Apple, Kindle and Windows.
Keep reading to see lots more information about the contents of this issue, including an iconic photograph of Richard Landon taken by Rick/Simon in 2005.
A Memoir of Richard Landon, King of Books is presented by Carl Spadoni, the former director of archives and research collections at McMaster University Library, Hamilton, Ontario. Spadoni is the author and editor of 150 books and articles related to bibliography and the history of the book. The recipient of fifty research grants, fellowships and scholarships, he was awarded the Marie Tremaine medal in 1999 from the Bibliographical Society of Canada for outstanding service to Canadian bibliography and for distinguished publication.
Alphabet, a little magazine created, edited and published by James Reaney (1926--2008), from its first issue in September 1960 until a final combined issue 18/19 in 1971, must be seen as one of the great magazines in the literary history of Canada. It can also be seen as an integral part of Reaney's work. As a product of his intelligence, the magazine provided several clues that are valuable in an overall examination of Reaney's work, and indeed, Alphabet was a clear indication that Reaney's work must be seen as a unified whole, stemming from his continuing engagement with a view of literature influenced by Northrop Frye.
The essay presented here is a revised and updated excerpt of an MA thesis, 'A History and Index of Alphabet Magazine' by D. I. Brown, submitted to the Department of English, McMaster University, April 1973. The thesis supervisor was Alvin Lee. The entire original thesis may be viewed online at: digitalcommons.mcmaster.ca (accessed September 22, 2012).
After a latter-day period of global travel and startling experiences, D. I. Brown has come to ground in a hermitage near his ancestral roots of Ancaster, Ontario, engaged in a contemplative life of research, considering and re-examining the American years, mistrial and doubtful conviction of Louis Riel, our featured Rogue.
Richard Kegler is the founder and primary designer at P22 Type Foundry in Buffalo, New York. He is also the founder of the Western New York Book Arts Center, and the director of the film Making Faces: Metal Type in the 21st Century (2011), which documented the working processes of Jim Rimmer. Introducing Rimmer Pro is the first in a new Devil's Artisan feature.
Kandid Kamera follows the exploits of Gaspereau Press publisher Andrew Steeves as he moved a LinoType, a VanderCook and 600 cases of wood type from Glenn Goluska's studio in Montreal to their new home in Kentville, Nova Scotia.
The cover image is adapted from a design by Allan Fleming that graced the cover of the inaugural issue of Alphabet, September 1960.
The keepsake was printed letterpress by Nicholas Kennedy from an electrotype made from a drawing by Jay Macpherson that appeared in Alphabet 10 (July 1965). The drawing was originally intended as an emblem in Macpherson's poetry book, The Boatman (1957), but was not used at that time.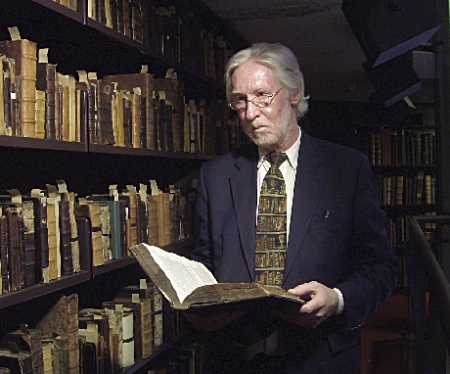 Richard Landon, 2005. Credit: Rick/Simon.
The Devil's Artisan would like to acknowledge the generous financial support of the Canada Council for the Arts and the Ontario Arts Council.