'Though an angel should write, / still 'tis devils must print.'

— Thomas Moore (1779–1852)
PREVIOUS ISSUES
DEVIL'S ARTISAN #72, SPRING/SUMMER 2013
The Arcane Adventures of a Tramp Printer Abroad.
Recent issues of the Devil's Artisan are also available digitally at Magzter.com or directly from our own proprietory eBook store in PDF format.
Keep reading to see lots more information about the contents of this issue, including an iconic photograph of the back shop at Hatch Show Print in Nashville.
The Arcane Adventures of a Tramp Printer Abroad documents an 8,800 km driving tour completed by Gaspereau Press publisher Andrew Steeves between the 25th of September and the 16th of October, 2012. Stops include Slow Print Letterpress in Dubuque, Iowa; Linotype University in Denmark, Iowa; the front of Republican headquarters in Hannibal, Missouri; Green Frog Village, Tennessee; Kennedy Prints in Gordo, Alabama; Hatch Show Print in Nashville; Larkspur Press, Monterey, Kentucky; Bixler Foundry, Skaneateles, New York; Dartmouth College and the Tides Institute.
The Life and Times of Conrad Black presents nine images from George Walker's latest wordless novel that was published in a letterpress edition of 13 copies that is sold out, and will be republished in a popularly-priced trade edition in the fall of 2013 by The Porcupine's Quill.
Richard Kegler is the founder and primary designer at P22 Type Foundry in Buffalo, New York. He is also the founder of the Western New York Book Arts Center, and the director of the film Making Faces: Metal Type in the 21st Century (2011), which documented the working processes of Jim Rimmer. Athena Revived is the second in a new Devil's Artisan feature.
Kandid Kamera celebrates Will Rueter's receipt of the Robert Reid award for Lifetime Achievement in the Book Arts and introduces Andrew Steeves' son Joseph on a Vandercook Universal 1A.
The cover image is adapted from a nineteenth-century engraving of an American Eagle. The cover is printed offset on the Heidelberg KORD by Tim Inkster at The Porcupine's Quill in Erin Village, Wellington County.
The keepsake was printed letterpress in three colours by Andrew Steeves at Gaspereau Press and features a quotation from Benjamin Franklin: 'If all printers were determined not to print anything until they were sure it would offend nobody, there would be very little printed.'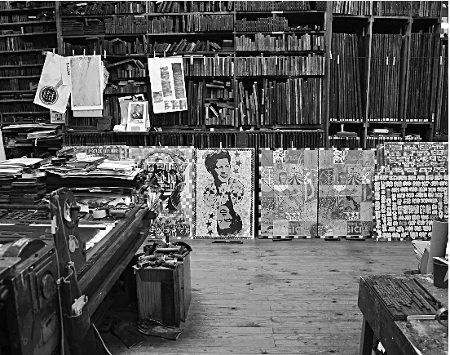 The back room at Hatch Show Print, Nashville. 2012. Credit: Andrew Steeves.
The Devil's Artisan would like to acknowledge the generous financial support of the Canada Council for the Arts and the Ontario Arts Council.