'Though an angel should write, / still 'tis devils must print.'

— Thomas Moore (1779–1852)
PREVIOUS ISSUES
DEVIL'S ARTISAN #79, FALL/WINTER 2016
Oscar Cahén's Vulgar Modernism, and a Chat with Typographer Rod McDonald
Recent issues of the Devil's Artisan are available digitally directly from our own proprietory eBook store in PDF format. The magazine is also available digitally through Magzter for various devices, including Android, Apple, Kindle and Windows.
Keep reading for more information about the contents of this issue and for a photograph of the 2016 Alcuin Society awards event.
DA 79 (Fall 2016) considers a number of topics on the subject of printing, typography and design.
Jaleen Grove contributes `Oscar Cahén's Vulgar Modernism', whose outlandish, avant-garde designs sought to stimulate the senses and provoke both aversion and fascination. His illustrations in the 1940s and 50s revitalized the business of illustration in Canada, and his work was instrumental in establishing a new national identity as well as a distinct, modernist and artistically diverse mass media.
Patrick Griffin reports on `An Informal Chat with Rod McDonald', in which the two discuss the development and release of McDonald's new font family, Classic Grotesque.
In `Barbarian Press and the Making of The Play of Pericles Prince of Tyre', John Shoesmith delves into the Barbarian Press archives at the Thomas Fisher Rare Book Library in Toronto to investigate the process of creating `the crown jewel of Barbarian's almost forty-year bookmaking history.'
In addition, Kristine Tortora and Nicholas Kennedy investigate the past, present and future of Howard Iron Works in Oakville, Ontario.
Recurring features include the Rogues' Gallery, featuring a profile of Nancy Jacobi of The Japanese Paper Place, and Richard Kegler's discussion of Jost Mediaeval Type. Kandid Kamera captures a number of events, including Word on the Street Toronto, the Alcuin Society awards, and the Coach House Press Wayzgoose.
The cover image is after an engraving of a Josiah Wade Arab Platen Press that appeared in The British Printer, Vol. 4, 1891. The keepsake was printed letterpress at Trip Print Press and illustrates the four principal types of platen mechanisms.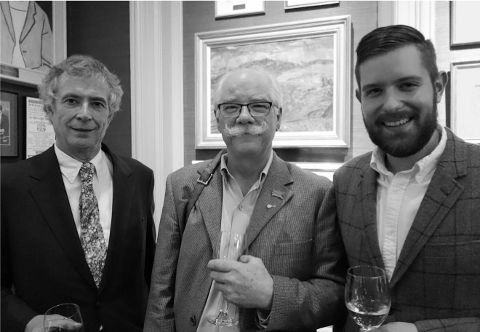 Chester Gryski, Wesley Bates and Grant Hurley at the Alcuin Society awards event at the Arts & Letters Club on Elm Street, Toronto. Credit: Don McLeod.
The Devil's Artisan would like to acknowledge the generous financial support of the Canada Council for the Arts and the Ontario Arts Council.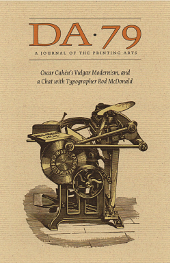 In This Issue:
Oscar Cahén's Vulgar Modernism
by Jaleen Grove
An Informal Chat with Rod McDonald
by Patrick Griffin
Barbarian Press and the Making of The Play of Pericles Prince of Tyre
by John Shoesmith
Howard Iron Works: Where Passion Meets Pride
by Kristine Tortora
Touring through Time: The Howard Iron Works Collection
by Nicholas Kennedy
Jost Mediaeval Type
by Richard Kegler
A Rogues' Gallery: Nancy Jacobi
by Don McLeod