'Though an angel should write, / still 'tis devils must print.'

— Thomas Moore (1779–1852)
PREVIOUS ISSUES
DEVIL'S ARTISAN #82, SPRING/SUMMER 2018
featuring the Visual Art of James Reaney & the R. Hoe Cylinder Press at Black Creek Pioneer Village
Recent issues of the Devil's Artisan are available digitally directly from our own proprietory eBook store in PDF format. The magazine is also available digitally through Magzter for various devices, including Android, Apple, Kindle and Windows.
In DA 82 curator Tom Smart examines the `playing witness' symbol in James Reaney's poetry, drama and visual art. Smart argues that Reaney's work offers paths which transcend the banal and pass over to a world of heightened perception in which the power of play facilitates the embrace of life's condition of disorderly continuity, absurdity and unpredictability, renders it bearable and endows it with a quality of grace.
Also in this issue, Stephen Sword contributes a short history of the cylinder press housed at Black Creek Pioneer Village, along with a chronicle of his experience learning to operate and maintain the press. Chelsea Jeffery provides `Notes on Early Printing in the Yukon', including a few tidbits of history from the Whitehorse Star.
Recurring features include the Rogues' Gallery, featuring a profile of Bill Poole, and Richard Kegler's discussion of the letterpress curiosity Alpha-blox. Kandid Kamera shares photos from a celebration of Robert R. Reid's 90th birthday and 69 years of designing and printing.
The front cover image by James Reaney is after a watercolour called The Typewriter. The keepsake is a portrait of Bill Poole, engraved on wood and printed letterpress by George A. Walker on paper donated by the Japanese Paper Place.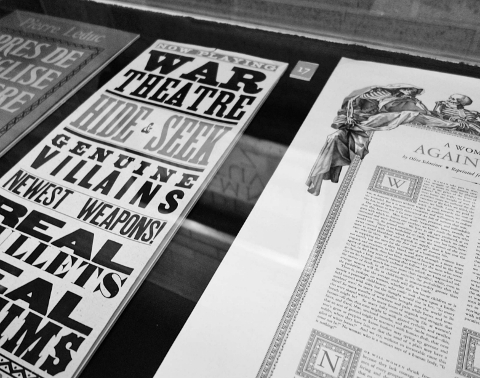 Large-format posters from the exhibition `Robert R. Reid, Celebrating His 90th Birthday and 69 Years of Designing and Printing'. Credit: Don McLeod.
The Devil's Artisan would like to acknowledge the generous financial support of the Canada Council for the Arts and the Ontario Arts Council.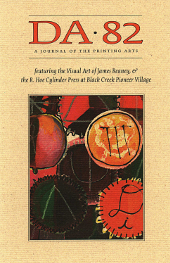 In This Issue:
The Visual Art of James Reaney and the Iconography of His Imagination
by Tom Smart
The Tale of a Mechanical Marvel: The R. Hoe Large Cylinder Press at Black Creek Pioneer Village
by Stephen Sword
Notes on Early Printing in the Yukon
by Chelsea Jeffery
A Rogues' Gallery: Bill Poole
by George A. Walker
Alpha-blox
by Richard Kegler