'Though an angel should write, / still 'tis devils must print.'

— Thomas Moore (1779–1852)
About The Devil's Artisan

To celebrate the first thirty years (1980-2011) of continuous publication of The Devil's Artisan, we are pleased to offer a commemorative wood engraving commissioned from the incomparable Wesley W. Bates of West Meadow Press, Clifford, Ontario.
Thirty-five copies of the image (push the arrows in the bottom right of this window to see a partial preview) have been printed by the artist on a Challenge cylinder proof press onto Gampi Torinoko supplied by Nancy Jacobi of the Japanese Paper Place. The image measures five inches high by three inches wide. The prints are signed, and numbered. Presented loose, and gently laid between the boards of a case handmade by Donald Taylor and Kate Murdoch of Toronto and suitably covered in a matte, black Italian cloth.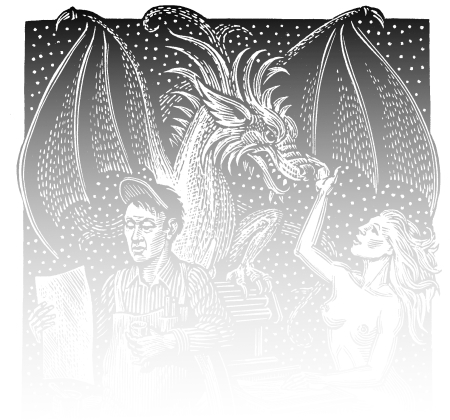 One hundred ($100) dollars per print includes shipping, handling and applicable taxes.
Orders, with cheque enclosed, can be posted to The Devil's Artisan, P O Box 160, Erin, Ontario N0B 1T0. VISA orders are welcome, faxed to 519 833-9845.
Enquiries of a general nature should be directed to elke@porcupinesquill.ca or telephone 519 833-9158.

The Devil's Artisan (DA) first appeared in 1980 under the editorship of Paul Forage, William Rueter (University of Toronto Press) and Glenn Goluska, latterly of Coach House Press (Toronto) and print design consultant to Phyllis Lambert at the Centre for the Study of Architecture in Montreal. The magazine was founded 'for the purpose of presenting to Canadian readers information on the craft of printing and bookmaking, on bibliographic and historic matters, and on communicative, sociological, and technical subjects related to printing.'
The Porcupine's Quill purchased the magazine in the spring of 1995 and has published two issues a year, spring and fall, since that time (Number 36).
The focus of the journal has broadened somewhat, since its inception, from an early technical interest in the craft of fine printing to its current role as 'A Journal of the Printing Arts'. The magazine has, however, remained committed to its constituency — and hence is released in the spring at Bill Poole's Wayzgoose festival of the Book Arts in Grimsby on the Niagara peninsula, and in the fall at the Ontario College of Art & Design Book Arts Show on McCaul Street in Toronto.
A one-year subscription to DA consists of two issues — one in May, the second in December. The cost is $27 for individuals and $33 for institutions, HST included. For subscribers outside Canada, the cost is $30 US. $36 US for institutions.
As of May, 2009 the Devil's Artisan is also available digitally at zinio.com or directly from our own proprietory eBook store in PDF format.
A down-loadable subscription form in Adobe "PDF" format is available by clicking on the Subscription Form page.
The Devil's Artisan now accepts subscription orders paid by VISA (only, we are not able to accept Mastercard or Amex) by voice phone at (519) 833-9158 or (preferably) fax at (519) 833-9845. Please include your name, VISA card number and expiry date on your faxed order. Please also include a voice telephone number or an e-mail address in case of unexpected trouble. Please do NOT send us credit card information via e-mail (it's dangerous). If in doubt, e-mail publisher Tim Inkster. For story suggestions or other editorial concerns please e-mail editor Don McLeod.
The Devil's Artisan is also now available on abebooks.com, where Mastercard payments are welcome, as well as Visa.
ISSN 0225-7874
The Devil's Artisan is remarkable in Canadian publishing in that most of the physical production of our journal is completed in-house at the shop on the Main Street of Erin Village. We print on a twenty-five inch Heidelberg KORD, typically onto acid-free Zephyr Antique laid. The sheets are then folded, and sewn into signatures on a 1907 model Smyth National Book Sewing machine.
To take a virtual tour of the pressroom, visit us at YouTube for a discussion of offset printing in general, and the operation of a Heidelberg KORD in particular. Other videos include Four Colour Printing, Smyth Sewing and Wood Engraving. Photographs of production machinery used on these pages were taken by Sandra Traversy on site at the printing office of the Porcupine's Quill, December 2008.
The Devil's Artisan would like to acknowledge the generous financial support
of the Canada Council for the Arts, and the Ontario Arts Council.