'Though an angel should write, / still 'tis devils must print.'

— Thomas Moore (1779–1852)
HOME
Established in 1980, the Devil's Artisan (DA) is Canada's 'Journal of the Printing Arts'. We foster an appreciation of the physical and social aspects of bookmaking in Canada, reaching out to a global audience of typographic and printing arts enthusiasts who appreciate the value of the printed word even in this digital age.
Latest Issues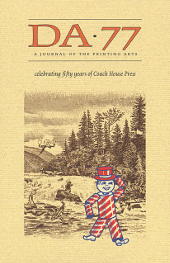 Devil's Artisan #77
Fall/Winter 2015
In This Issue:
The Old Coach House Days by Dennis Reid
Coach House Press in the 'Early Digital' Period: A Celebration by John Maxwell
A Pair Heidelberg of KORDs by Tim Inkster (with help from Stan)
A Short Walk Around the Perimeter of a Heidelberg KORD by Sandra Traversy
A Rogues' Gallery: Nelson Adams
& more ...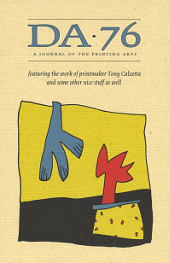 Devil's Artisan #76
Spring/Summer 2015
In This Issue:
Fabulous Peculiarities: Tony Calzetta's Prints, Drawings, Paintings and Bookworks by Tom Smart
A Sampler: Oddballs by Jim Westergard
Richard Kegler examines Goudy's Aries Typeface
A Rogues' Gallery: Dieter Grund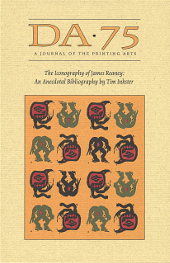 Devil's Artisan #75
Fall/Winter 2014
In This Issue:
The Iconography of James Reaney: An Anecdotal Bibliography by Tim Inkster
Rabbittown Press, David Brewer, Prop. by Shane Neilson
A Sampler: Images from The Grand River by Gerard Brender à Brandis
Richard Kegler examines Victor Hammer's Aurora Uncial
A Rogues' Gallery: Glenn Goluska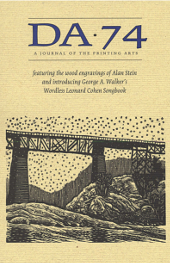 Devil's Artisan #74
Spring/Summer 2014
In This Issue:
Now I'm One of the Old Guys: Alan Stein and the Church Street Press by Alan Stein
How to Illustrate a Poem: The Art of Alan Stein by Lisa Moore
Robert R. Reid's Wise Consciousness by Nigel Beale
A Sampler: The Wordless Leonard Cohen Songbook by George A. Walker
A Rogues' Gallery: Rod McDonald
More to Explore
The Devil's Artisan would like to acknowledge the generous financial support of the Canada Council for the Arts and the Ontario Arts Council.