'Though an angel should write, / still 'tis devils must print.'

— Thomas Moore (1779–1852)
HOME
Established in 1980, the Devil's Artisan (DA) is Canada's 'Journal of the Printing Arts'. We foster an appreciation of the physical and social aspects of bookmaking in Canada, reaching out to a global audience of typographic and printing arts enthusiasts who appreciate the value of the printed word even in this digital age.
Latest Issues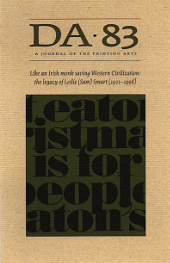 Devil's Artisan #83
Fall/Winter 2018
In This Issue:
Leslie (Sam) Smart, FGDC (1921–1998)
Robert Van de Peer: A Master Printmaker's Career
Book Review: Bed & Platen Book Printing Machines
A Rogues' Gallery: Robert R. Reid by Chester Gryski
Double Small-Pica Script by Richard Kegler
& more ...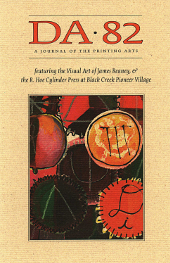 Devil's Artisan #82
Spring/Summer 2018
In This Issue:
The Visual Art of James Reaney and the Iconography of His Imagination by Tom Smart
The Tale of a Mechanical Marvel: The R. Hoe Large Cylinder Press at Black Creek Pioneer Village by Stephen Sword
Notes on Early Printing in the Yukon by Chelsea Jeffery
A Rogues' Gallery: Bill Poole by George A. Walker
Alpha-blox by Richard Kegler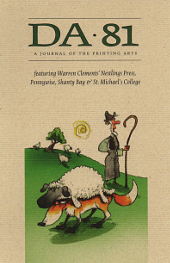 Devil's Artisan #81
Fall/Winter 2017
In This Issue:
The Art of Drawing Laughs: Nestlings Press Turns Five by Warren Clements
The Pennywise Press: A Memoir by Elizabeth Neill
Shanty Bay Press: A Visit and an Appreciation by John Shoesmith
The Archetypes of the Ottawa Press Gang by Larry Thompson
All Hands-On: The History of St. Michael's College Press by Manda Vrkljan & Noelle Gadon
& more ...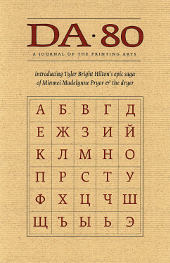 Devil's Artisan #80
Spring/Summer 2017
In This Issue:
An Alice of a Different Order by Tom Smart
Glenn Goluska in Toronto: An Appreciation and Annotation by Chester Gryski
An Interview with Lisa Johnson, Administrator of the JackPine Press Editorial Collective by Shane Neilson
Chromatic Ornate Type by Richard Kegler
A Rogues' Gallery: Larry Thompson by Don McLeod
More to Explore
The Devil's Artisan would like to acknowledge the generous financial support of the Canada Council for the Arts and the Ontario Arts Council.