Welcome to the new and improved home for the Devil's Artisan on the web. If you've been following us for a while, you'll note that we still have a familiar aesthetic, but we have also made a number of changes to serve you better. Here's a quick walkthrough to get you acclimated.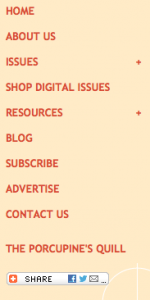 Navigation is still in the same place on the left side of your screen, but it is now a bit more streamlined. You can find popular materials like the Rogues' Gallery and the Dingbats Section under the new "Resources" link. You'll also find articles on Gauntlet Press, Anchorage Press, and the Gourmet VanderCook here. Latest and previous issues are all browsable from the "Issues" link Plus, feel free to share anything that you find noteworthy with our handy share button.
It is now easier than ever to find us on social media. On the right side of the page, you'll notice our new social media buttons. We share social Facebook and Twitter accounts as well as our newsletter with The Porcupine's Quill. You can find our brand-spanking-new, dedicated Pinterest page as well as links to our online store and the DA blog in the sidebar.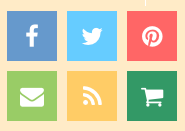 The home page now offers information about our latest issues as well as links to some of our most popular content. We're also featuring online stores and apps that carry DA content in the content slider at the top of the page.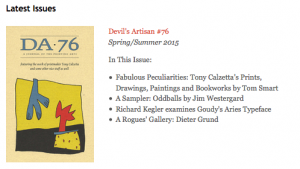 Finally, look for fresh blog content every month, right here at devilsartisan.ca/blog.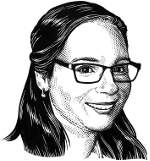 We hope you like the new look and functionality on our website, but of course, we're always looking for ways to improve. If you have any questions, comments, or suggestions, feel free to get in tough at pqlporcupettes@gmail.com.
Happy browsing,