You know how sometimes you're bored and alone and just want to look at pretty things on the Internet? Wait a minute. I feel this could be misinterpreted. What I mean is, sometimes you just want to look at photos of print shops and their products. I myself and guilty of spending an embarrassingly long time drooling over letterpress business cards. To each her own.
Well have no fear! In order to help you meet your daily quota of print-love, we've compiled a list of gorgeous print-related Instagram accounts that you can browse to your heart's content. Bonus—they're all in Canada!
Fernie, BC
Lovely print samples alongside some truly spectacular photos of metal and wooden type. Love the type here »
Oakville, ON
Their Instagram contains an eclectic mix of posters, cards, design and travel photos. Follow them here » They also have a very nice Pinterest board… Check it out here »
Ottawa, ON
Whoever manages this Instagram does some pretty impressive (tee hee) and artistic photography. Mostly samples with a few choice shop pics. Be impressed here »
Their Pinterest account is very browseable. I particularly like the studio board. Follow them here »
Peterborough, ON
Creative work with beautiful multi-layered and multi-coloured prints. Experience life in colour here »
North Vancouver, BC
Because everything is better with dogs. Find out why here »
Edmonton, AB
Prepare to drool over these gorgeous and detailed business cards. Also fun to see the business-y side to the press, like paper shipments, ink mixing and so on. Start drooling here »
Kingston, ON
Gorgeous colours about on this Instagram account! Cards, posters, and the occasional d'awww-worthy family snap. D'awwws start here »
Woodbridge, ON
There's no other way to say it. Get ready for printing nirvana. Another example of top-notch photography of a great variety of printed artwork. Find your zen here » Also some great stuff on Pinterest here »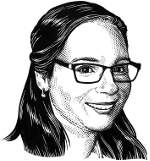 Hope you enjoyed this look at some of Canada's print shops. If you have any suggestions for Instagrams featuring the printing arts, don't hesitate to drop us a line. Also, don't forget to check out the Devil's Artisan Pinterest page, where we share some print-shop love of our own.
Cheers,