It's here! It's here! It's finally here!
That's right, the long-awaited DA 77—celebrating a whopping fifty years for legendary printer/publisher Coach House—is now available. Full of rich history, nostalgia-inducing pictures and an amusing anecdote or two, it is a must-read for anyone interested in independent literary publishing in Canada.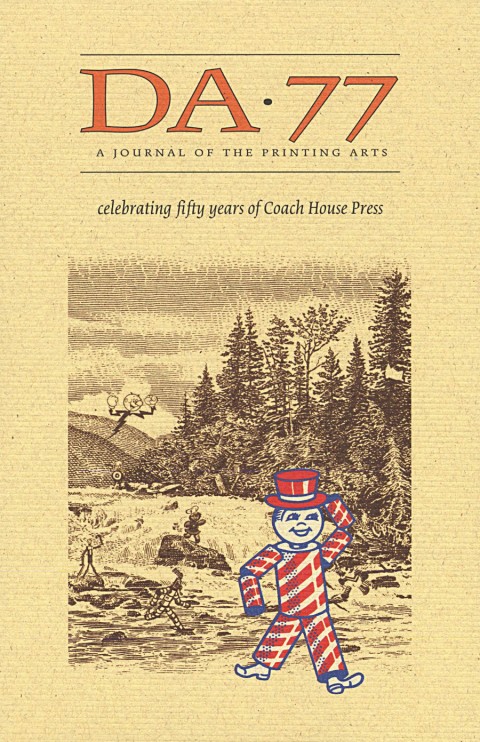 I first heard the Coach House moniker as a lowly undergraduate taking part in a publishing practicum at the University of Windsor. Groups of us were given an assignment to research and talk about various small presses in Canada, from their origin stories to their marketing efforts to their past and upcoming lists. (Lo and behold, every year I seem to get an email or two in my inbox from students taking the same course with the same instructor asking the same questions. Life does come full circle, doesn't it?) I believe my group was responsible for reporting on some now-defunct publisher in western Canada, but one particular student in the class took the initiative to make the four-hour drive to Toronto to report on Coach House Books. She came back full of anecdotes about "The Magical Sleeper Chair", about casting a line of lead type, correctly identifying Garamond among a lineup of impostors, and of course, learning about the twin Heidelbergs in the press shop. Her report, needless to say, blew ours out of the water, mostly, I think, because of the free bookmarks and catalogues, but maybe also because she had gained some small insight into design and production of books that we jealously coveted.
It wasn't until I visited the shop on bpNichol Lane myself that I got a true sense of the toil inherent in the small press printing biz. As a grad student at Trent University's Public Texts program several years ago, I and about a dozen other grad students clambered onto a chartered yellow school bus (amazing how quickly one forgets how uncomfortable those bad boys are) and into the Big Smoke. We were dropped off at the Robarts Library and promptly spent a solid quarter hour lost and wandering the environs of bpNichol Lane in search of the front door. Finally, someone inside the shop took pity on us and let us in through some hidden passage or other that I'm fairly certain was not intended for a group of curious students, but which did the job of ending our embarrassment rather admirably.
We had an instructive whirlwind tour of the print shop and the offices before settling into the break room area to pelt editor Alana Wilcox with what probably seemed to her like hopelessly naïve questions about how to get started in publishing. And naturally, at the end of the affair, we descended upon a pile of discounted books like a pack of rabid wolves. I came away with a book of short stories that kept me blissfully occupied for much of the long, bumpy ride back to Peterborough, and an abiding interest in those hulking machines that turned out such beloved books.
My Coach House experience is a rather mundane one, perhaps, especially to anyone steeped in the printing and publishing culture of Toronto, but it's hard to describe how jaw-droppingly cool it was for a bookworm from the decidedly non-imaginative manufacturing armpit of Canada to SEE publishing HAPPEN, and to meet people who eked out a living through the preparation of the printed word.
The fact that I later stumbled into a little publishing gem known as The Porcupine's Quill, with similar production methods and an attitude to boot, was a small miracle in itself. And as a bonus, Tim Inkster has a way better Coach House story than I, involving the paradoxical nature of workplace experience, a harrowing car crash, and a proud papa holding small business to account.
You can read it, and many other fascinating first-hand accounts of Coach House's history, in DA 77.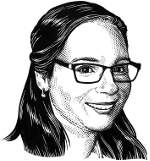 What are you waiting for? Get your copy today!
Happy reading,