Every year the fine folks at Coach House Books throw a party. Of course, the party has a funny-sounding name, but it is a name steeped in the rich tradition of literary publishing.
Typically, a wayzgoose is a party held by a printing house for its employees at the end of the summer season. No one seems to know precisely why or how the wayzgoose got its name, but suffice it to say it has the weight of history behind it!
The Coach House wayzgoose tends to be more of an informal gathering of those generally interested in bookish culture, whether they be printers, publishers, librarians, authors or book fans in general. It's always a good opportunity for literary folks to mingle, and to have a little bit of fun before the craziness of the fall season descends.
DA Editor Don McLeod was at the 2018 Coach House Wayzgoose on August 30, and he took a few great snaps of the annual event.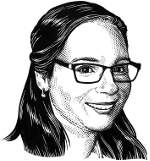 Hope you enjoyed this peek at the festivities! It certainly looks like a great party to add to your must-attend list next summer. Many thanks as always to Don for his photographic excellence.
Cheers,